Goth Chick News: The Overlook Gets a Starring Role
Goth Chick News: The Overlook Gets a Starring Role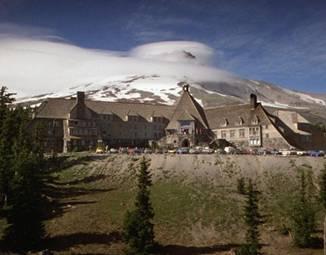 If you had asked me, when a prequel to The Shining was first green-lighted in July of last year, I'd have said it didn't sound like such a hot idea.
Initial plans suggested the storyline would center on events leading up to Jack, Wendy and Danny Torrance's arrival at the remote and ominous Overlook Hotel; and though fans of the book know there is a substantial amount of pre-Torrance material to work with, it just didn't seem on the same terrifying level as the ultimate fallout of those events.
That early opinion of mine (may have) changed when Mark Romanek became attached to the project this week — a real-deal director with an edgy artistic vision.
Film will be called… wait for it…
The Overlook Hotel.
The premise is based on a deleted prologue written by Stephen King. "Before the Play" is about:
The origin story of the Overlook Hotel through the eyes of its first owner, Bob T. Watson. A robber baron at the turn of the 20th century, Watson scaled the remote peaks of the Colorado Rockies to build the grandest resort in America, and a place he and his family would also call home.
The adaptation of that prologue, penned by The Walking Dead's previous showrunner Glen Mazzara, has been kicking around at Warner Bros. for a few years now. Mazzara got started on it after leaving TWD after season two.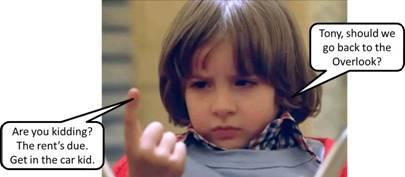 Variety indicates Mark Romanek is an interesting choice for this project, given that he has a rocky past with major studio productions. Romanek made one small feature in the mid-'80s, but really became a high-profile director with a career making music videos such as Closer for Nine Inch Nails and Scream for Michael and Janet Jackson. He moved back into features with the 2002 release One Hour Photo, and has only directed one other film since then, 2010's Never Let Me Go.
But even recently, Romanek has been attached unsuccessfully to studio pictures such as The Wolfman (which he left at the eleventh hour) and Disney's live-action Cinderella reboot.
So he's a skilled storyteller and a filmmaker with a unique visual signature that's even a bit on the disturbing side, but someone who doesn't seem to suffer the studio process well. All things considered, actually seeing The Overlook Hotel get to release with Romanek as director would be cool but very surprising.
And then there's the question of even making a prologue to The Shining, which to me still seems like a tricky proposition under the best of circumstances.
So while we wait around to see how this turns out, you can go ahead and book room 217 in either the Stanley Hotel (Stephen King's inspiration) or the Timberline Lodge (Stanley Kubrick's inspiration) and get your real Overlook on.
Big wheel not included.