Future Treasures: Dragon Heart by Cecelia Holland
Future Treasures: Dragon Heart by Cecelia Holland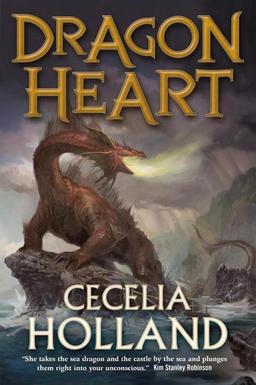 Cecelia Holland has written over thirty novels, ranging from historical fiction to science fiction to historical fantasy. Her novels include the space opera Floating Worlds, the Viking saga trilogy The Soul Thief, Byzantine Empire tale Varanger, and The King's Witch. Her latest is a tale of new-born empires, ancient kingdoms, deadly court intrigue…. and a mysterious dragon of the sea.
Where the Cape of the Winds juts into the endless sea, there is Castle Ocean, and therein dwells the royal family that has ruled it from time immemorial. But there is an Empire growing in the east, and its forces have reached the castle. King Reymarro is dead in battle, and by the new treaty, Queen Marioza must marry one of the Emperor's brothers. She loathes the idea, and has already killed the first brother, but a second arrives, escorted by more soldiers. While Marioza delays, her youngest son, Jeon, goes on a journey in search of his mute twin, Tirza, who needs to be present for the wedding.

As Jeon and Tirza return by sea, their ship is attacked by a shocking and powerful dragon, red as blood and big as the ship. Thrown into the water, Tirza clings to the dragon, and after an underwater journey, finds herself alone with the creature in an inland sea pool. Surprisingly, she is able to talk to the beast, and understand it.

So begins a saga of violence, destruction, and death, of love and monsters, human and otherwise.
Dragon Heart will be published by Tor Books on September 1, 2015. It is 286 pages, priced at $25.99 in hardcover and $12.99 for the digital edition. The cover is by Lucas Graciano.