Future Treasures: Dungeons & Dragons: Out of the Abyss
Future Treasures: Dungeons & Dragons: Out of the Abyss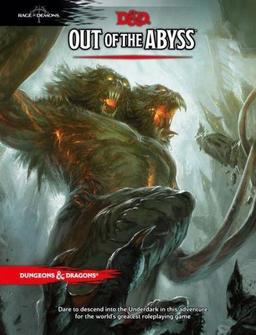 For all the accolades and buzz for Dungeons & Dragons Fifth Edition, there have been shockingly few releases supporting the game. Beyond the core rulebooks (published 12 months ago now), Wizards of the Coast has published only two adventures, one accessory, and a DM's screen:
Hoard of the Dragon Queen (Adventure, August 2014)
The Rise of Tiamat (Adventure, November)
Dungeon Master's Screen (January)
Princes of the Apocalypse (Accessory, April)
So I was very pleased to see another major item on the publishing schedule: Out of the Abyss, a massive 256-page Underdark adventure for characters of levels 1–15.
The Underdark is a subterranean wonderland, a vast and twisted labyrinth where fear reigns. It is the home of horrific monsters that have never seen the light of day. It is here that the dark elf Gromph Baenre, Archmage of Menzoberranzan, casts a foul spell meant to ignite a magical energy that suffuses the Underdark and tears open portals to the demonic Abyss. What steps through surprises even him, and from that moment on, the insanity that pervades the Underdark escalates and threatens to shake the Forgotten Realms to its foundations. Stop the madness before it consumes you!
The next release on the schedule is Sword Coast Adventurer's Guide, an accessory that ties into the highly anticipated Sword Coast Legends computer RPG coming out next month. It arrives in November.
Out of the Abyss will be published by Wizards of the Coast on September 15, 2015. It is 256 pages, priced at $49.95 in hardcover. There is no digital edition.