Victor Milan Talks Planet Paradise, His Many Pen Names, and a Plastic Dinosaur with Metallic Paint on It
Victor Milan Talks Planet Paradise, His Many Pen Names, and a Plastic Dinosaur with Metallic Paint on It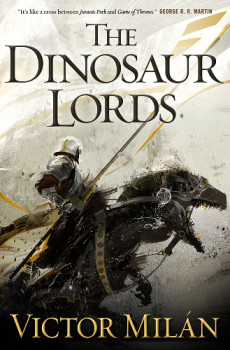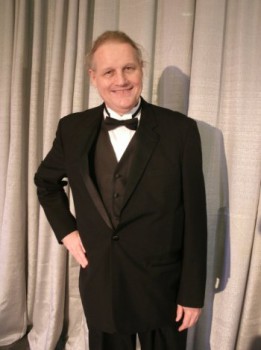 I had the opportunity to sit down with Victor Milan last month to discuss his current release, The Dinosaur Lords. As a member of his writers group, I've read the early drafts of this novel and am very excited to see it in print. George RR Martin refers to it as "Game of Thrones meets Jurassic Park," and that's a pretty good synopsis.
Set on the lost Earth colony of Paradise, feudal society humans live among dinosaurs of all epochs – wild dinosaurs, tame dinosaurs, and even war-mount dinosaurs. Hence the awesome knight on dino-back image that graces the cover of the book. Combine this with the sudden manifestation of a mythical angel of doom, and you've got the kickoff event of the story.
While Victor Milan is a well-known, prolific author, many people don't know how prolific. On top of the dozen novels out under his own name, he's also written many, many more under pen names. His career so far spans thirty-one years of publishing history, including the infamous midlist apocalypse of the 1980's. Together, he and I discuss the ups and downs of the business and his journey so far.
Interview with Victor Milan
Conducted and Edited by Emily Mah, July 2015
The interview is just under half an hour long. As always, I include time stamps for the different topics below, so you can jump to specific sections that interest you the most.
We begin with an introduction of Victor Milan and his newest releases, starting with his acclaimed short story in The Change: Tales of Downfall and Rebirth. In his Black Gate review, Ed Carmien said of Victor Milan's "The Seeker: A Poison in the Blood":
This gritty western begs for more, evokes Eastwood and other less Anglo western influences, and solves the problem of the story with verve and originality — if "verve" can be used in a western setting.
We then move on to his novel, The Dinosaur Lords (which John O'Neill previewed here).
We are in Page 1 Bookstore, an independent bookstore that is very supportive of the author community.
The Dinosaur Lords
1:05 An overview of The Dinosaur Lords, "Game of Thrones meets Jurassic Park" – George RR Martin. First an overview of the world, Paradise.
3:38 We discuss the religion of Paradise, and the spiritual event that kicks off the plot.
6:15 How fantasy and science fiction blend in this series.
7:11 Vic introduces a few individual dinosaurs (some of the best characters in my opinion) and outlines his depiction of dinosaurs in general.
9:52 The political situation on Paradise.
11:51 A summary of the first book's setting and set up.
Victor Milan's Career To-Date
12:38 How to pronounce Vic's name.
13:28 Vic outlines his 31 year long career and lists off several of his pen names.
14:43 We discuss writing under house names and doing work for hire.
16:42 How Vic survived the publishing apocalypse of the 80's and 90's.
18:12 A summary of books under his own name and the early books he wrote.
19:32 We discuss Vic's pivotal role in the Wild Cards shared-universe books.
22:40 Vic describes the process of relaunching his career of writing under his own name.
24:30 He outlines the process of selling The Dinosaur Lords books to Tor and having it edited.
25:46 The cover art, and why we love it.
26:30 Summing up The Dinosaur Lords one more time, including a discussion of a dinosaur with metallic paint.
---
Emily Mah is a writer and the owner of E.M. Tippetts Book Designs, a company that provides formatting, cover design, and editing services for independent authors and publishers. Her last interview for Black Gate was with C.A. Suleiman.