Knights of the Dinner Table 220 Now on Sale
Knights of the Dinner Table 220 Now on Sale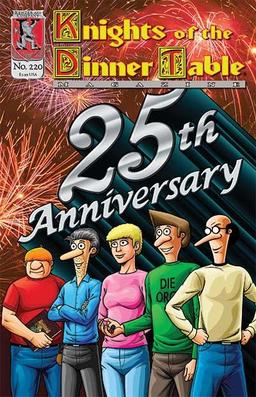 Actually, issue #220 of Knights of the Dinner Table has been on sale for a couple months now, and I missed it. I just found out it was the 25th Anniversary issue, and now I'm doubly embarrassed.
Twenty-five years ago, Jolly Blackburn created the Knights of the Dinner Table comic to fill an unexpected one-page hole at the back of his gaming magazine Shadis. Today, the Knights of the Dinner Table headline one of the longest-running independent comics in history, and they also feature in board games, card games, t-shirts, and even an independently produce live-action series.
But the heart of the KoDT publishing empire remains the monthly comic, dedicated to the misadventures of a group of misfit gamers from Muncie, Indiana. It is written and drawn by my friend Jolly R. Blackburn, with editorial assistance by his talented wife Barbara. Black Gate readers may remember the KoDT spin-off The Java Joint, which appeared in the back of every issue of BG (and was eventually collected in a single volume in 2012).
In addition to Jolly's hilarious comic strips, Knights of the Dinner Table Magazine is packed with gaming columns of all kinds, keeping you informed on the latest and greatest in the industry. KoDT 220 has no less than 11 full-length strips, plus some short "One-Two Punches."
Here's the complete Table of Contents.
The Strips
"Muncie, We have a Problem" – Casualties from the Pwn Brian Express are piling up and Pete looks for a healer
"Rumblings" – Pete counts up his earnings during a break, and Bob and Dave are trying to track down Gary Jackson
"GM Huddle" – Exhausted GMs Patty and B.A. commiserate
"The Croutons Have Eyes" – Bob tries some stealthy maneuvers to get to Gary Jackson at lunch
"The Meat Hopper" – Gary continues to revel in slaughtering player characters
"A Pearl Before the Whine" – Gary Jackson makes a surprising and decisive move against Carvin Marvin
"One-Two Punches"
Special Features
Raktavira's Villa – A HackMaster city adventure requiring stealth & cunning. For 7th – 9th level characters. By Steve Lawrence
KODT Interrogations – Jolly Blackburn is on the hot seat, remembering how it all began. By Shane Ruckle
Regular Columns
Web Scryer: Treasure Hoard Makeover by Ken Newquist
Tales from the Table
GameMaster's Workshop
Deadly Trappings: Spinning Top of Deadly Blades by Barb Blackburn
All Things Magic: Raton Draik's Monocle by Steve Lawrence
Denizens of Tellene: Raktavira, & Setiru Ritu by Steve Lawrence
Reviews
Lost Game Safari: Cadillacs and Dinosaurs by Andy Miller
Off the Shelf: In Memory of Terry Pratchett by Noah Chinn
Brian's Picks: Imperium Chronicles: In Harm's Way Tactics, Centurion: Legionaries of Rome, The Great Debate
Departments
Cries from the Attic: Editorial of a Madman: Twenty Five Years Ago This Month by Jolly Blackburn
Table Talk: Our Readers Talk Back
Weird Pete's Bulletin Board
Back Room at the Games Pit
Parting Shots
Other Toons
SnarfQuest by Larry Elmore
Unnamed cartoons by Bill Cavalier, Vaarmund, Lee Lamb
We last covered Knights of the Dinner Table Magazine with issue #219.
Knights of the Dinner Table Magazine #220 was published by Kenzer & Co on March 16, 2015. It is 64 pages, priced at $5.99. Learn more at the KenzerCo website.
See our July Fantasy Magazine Rack here, and all of our recent Magazine coverage here.