Galaxy Science Fiction, October 1952: A Retro-Review
Galaxy Science Fiction, October 1952: A Retro-Review
Galaxy celebrated its second birthday (and start of its third year) with a cover depicting some of its staff and contributors (illustrated by E. A. Emshwiller). The artwork wrapped around the back (interrupted by the spine) and included a "key" on the inside cover to identify each person, including the robot and alien.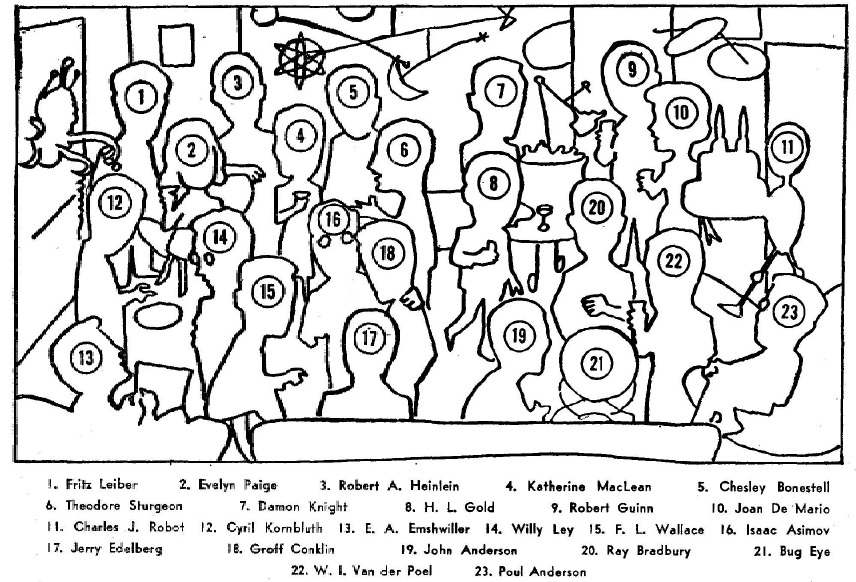 Editor H. L. Gold is on the left on the front cover, halfway down the picture, shown in a blue suit and holding a cup. (Click on the images above for bigger versions.)
"Baby is Three" by Theodore Sturgeon — Gerry is a teenager who's struggling with his past. He visits a psychiatrist to help him understand who he is. What ensues is a series of flashbacks to Gerry's past. Gerry lived with other children and an older man, but the children all had special abilities, such as teleportation or telekenesis. Gerry didn't think he had such talents, yet he was chosen to be part of them. After the man died, the children were left in a state of limbo, eventually leading them to a new home and a strange encounter that Gerry locked within himself. With the psychiatrist's help, Gerry agrees to go back to that moment, to understand what happened and put together who he is.
This is an amazing story. I can't say enough about it. The narrator's voice is fantastic, and once again, Sturgeon proves he was a master of characters. It read much more like fantasy to me; replace the words teleportation and telekenesis with magic, and that almost takes care of it. It was chosen by SFWA as one of the top ten pre-1965 novellas (#5 actually), and was published in The Science Fiction Hall of Fame, Volume Two (Volume One contained only short stories.) The novella was later reconstructed into a novel titled More Than Human, published in 1953.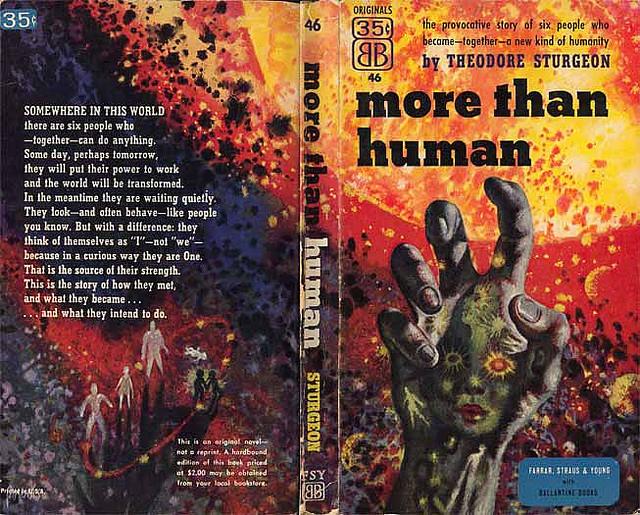 "Zen" by Jerome Bixby — David Koontz is part of a team exploring asteroids for any signs of life. Surprisingly, David finds a female Zen — an intelligent and long-living species. To date, the only Zen anyone has ever seen is their crewmate, Yurt. And no one is more excited by the discovery than him.
"Zen" is cute, just like the alien being itself — a lighthearted story that follows the powerful Sturgeon. Bixby planted many seeds in the science fiction field. He wrote two episodes of Star Trek, and he wrote a short story titled "It's a Good Life" that was adapted for a Twilight Zone episode of the same name; it's about a boy with the power to change whatever he likes with his mental powers, so everyone has to call everything he does "good" or they might end up as a jack-in-the-box (or worse).
Another interesting contribution from Bixby was his screenplay for It! The Terror from Beyond Space, which inspired Alien.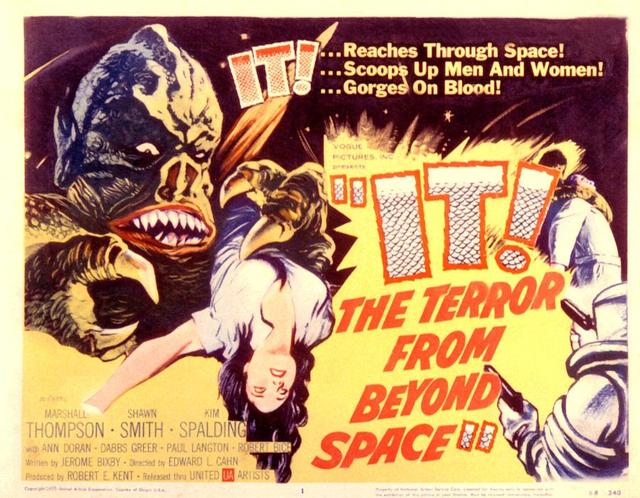 "Wait for Weight" by Jack McKenty — Dr. Brinton works at the director of the Rocket Research Station, working on spaceflight. The team has encountered failure after failure for years, and now Dr. Brinton has to explain their "progress" to a visiting senator.
It was interesting to read a story where achieving spaceflight wasn't a simple matter — that even in the future, there were many failed trials.
Normally, I don't cover the non-fiction articles, but I'll take exception in this one. Willy Ley's article "For Your Information" drew me in. In part of it, he speculates about the future, and I found this especially amusing:
Finally: I do think that the people a hundred years from now will still buy newspapers and read books. I also believe that these books and papers will be printed — presumably with a more lavish use of color than nowadays — on paper. I don't believe in the 'electronic device' which replaces the newspaper, nor in the newspaper printed photographically on a piece of plastic the size of a special delivery stamp. All you have to do is insert it in the projector and the letters will appear on the ceiling of your bedroom. You can read it while having breakfast in bed. Damned inconvenient is all I have to say.
He did go on to make some good points about an electronic device — that you could mislay it, or it might break. Also, it might not be simple to record notes on, and how could you file items? Still, I wish I could go back in time and show him my Kindle Fire.
"Halo" by Hal Clement — A galactic being reports to its superior about not running its farm properly. One of its richest units is beyond a field of asteroids, preventing their kind from feeding off of it.
I appreciate any science fiction with alien beings who aren't humanoids. This had a nice plot and an interesting conclusion.
"Tree, Spare That Woodman" by Dave Dryfoos — A pioneer family on an alien planet discovers their good friend, Cappy, died. Outside his shack, the trees are gathered close. The husband shares a secret with his wife to quell her apprehension- – that the trees attack when they sense fear. There are trees near their own home, and they are somehow creeping closer every moment.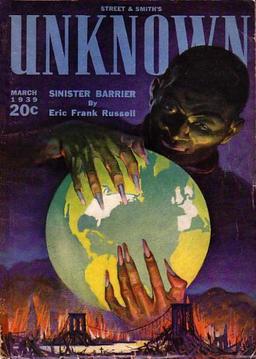 The characters come across as stock characters of a cliche western. Pa knows about danger and tells Ma to keep strong for the boy's sake. Ma frets and stews about the danger anyway. And the boy runs amok. Beyond that, the ending seemed implausible.
"Game for Blondes" by John D. MacDonald — Martin isn't just drunk — he's been in a state of drunknness for weeks. He's trying to anesthetize himself after the death of his wife, which he caused through reckless driving. While he's drifting through bars on New Year's Eve, a trio of blonde girls stalk him. Though he tries to flee, they eventually capture him and take him to a place more bizarre than his drunken visions.
This story reads well and has strong emotion. Martin's character seems quite real.
"A Little Oil…" by Eric Frank Russell — A small crew returns to Earth from their mission to a nearby solar system. At least, they hope they're returning. Unfortunately, they can't be certain that the star they're moving toward is the sun. They experience of mix of anger, fear, boredom, and desperation. The only crewman who seems immune to it is Bertelli, a man who seems to serve no purpose at all, other than bungling things or occasionally entertaining them in mock talent shows. Or maybe there is a reason Bertelli was chosen, some purpose that the crew simply can't identify.
I liked the grim reality of space travel in this story; it isn't fun, and it isn't safe, but it's exploration. Bertelli's character is the only one that really stands out; the rest blur together a bit. But I think that is intentional.
There's an interesting legend about Russell — that his story Sinister Barrier brought about the creation of John W. Campbell's Unknown (the story appeared in the premier issue). If it's true, think about the implications — that the story is so well written and different that, rather shoehorn it into Astounding, a science fiction magazine, Campbell launched an entirely new magazine to make a home for it.
---
Matthew Wuertz's last retro reviews for us were the September 1939 issue of Unknown, and the September 1952 issue of Galaxy Science Fiction.