Galaxy Science Fiction, September 1952: A Retro-Review
Galaxy Science Fiction, September 1952: A Retro-Review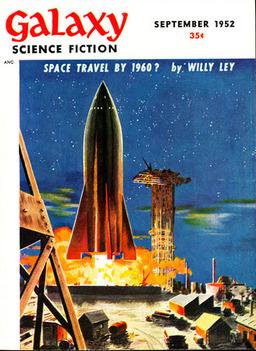 With this issue, Galaxy completed its second year of publication. That's 24 issues of top-notch science fiction. It's tough to match that stamina, and I applaud H.L. Gold, his staff, the authors, and the artists for staying the course.
"Delay in Transit" by F. L. Wallace — Denton Cassal is a sales engineer, traveling toward the center of the galaxy to solicit a top scientist to work for his company on an instant communication device. His journey takes him through Tunney 21, a planet inhabited mostly by Goldophians, who look somewhat like seals. Equipped with an AI device named Dimanche, Cassal is able to read people based on their body chemistry and temperature. He's being pursued, but Dimanche's intelligence and advice give Cassal confidence, provided he's willing to listen.
This piece was reprinted in Bodyguard and Four Other Short Science Fiction Novels From Galaxy edited by H. L. Gold in 1962. In this issue, however, it was credited as a novella. I liked the use of the AI as well as the setting of Tunney 21. Wallace also does a nice job with the pacing.
"The Snowball Efect" by Katherine MacLean — To prove the value of sociology (and his own department), Wilton Caswell meets with the university president to create a list of rules for an organization to employ in order to grow membership. If an organization adopts the rules and shows growth, then the president has quantitative proof of the depatment's value; the underlying principles of philosophy can promote success to all graduates. Caswell and the president choose the Watashaw Sewing Circle for their experiment and then withdraw to see what happens. It turns out that the rules work. They work so well, in fact, that the sewing group expands into a broader organization — one focused on civic welfare and politics.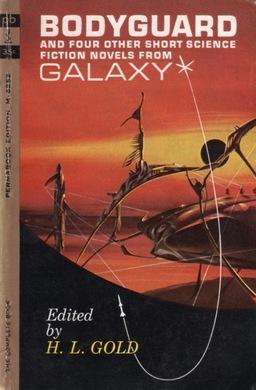 While starting a bit slow, the story builds into something amusing.
"Today is Forever" by Roger Dee — Boyle finds out that the visiting aliens are offering immortality to key individuals. Criminal behavior has been eliminated to the point that security isn't needed, so Boyle decides to simply take what he wants by force.
This story had a lot of background setting through dialogue, and that bugs me. A little of that is fine, but if a complex world is solely explained through long dialogue, I get antsy.
"The Moons of Mars" by Dean Evans — A security agent on Mars meets a Martian boy with a remarkable talent; unlike other Martians, he can whistle. The agent follows the boy out of curiosity, leading him to the boy's family and their tragic past.
H. L. Gold may not have liked Bat Durston, but this is clearly a space western. And a good one at that. This was my favorite story of the issue.
"Tea Tray in the Sky" by Evelyn E. Smith — Michael leaves the familiarity of the brotherhood to venture into the galaxy. He meets a salesman named Pierce who helps acclamate Michael to society and all of its rules. And there are quite a few to remember so as not to offend anyone from anywhere.
I think a fun, tongue-in-cheek story like this will always resonate with people. I'm not familiar with Smith's other work, but I've read that wit and humor are hallmarks of her stories.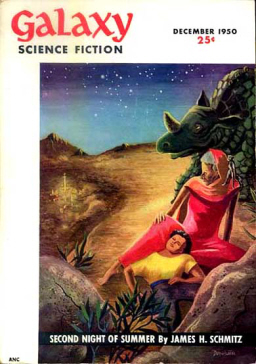 "The Mousetrap" by Gordon R. Dickson — Helmut Perran wakes on a desserted planetoid with no memories. Over time, he begins to recall his life in pieces – a series of blunders in an attempt to return to Earth with full citizenship. When aliens visit his world, he fears them, yet they would do well to fear him.
This has the feel of a Twilight Zone episode — something strange is happening, and the character doesn't understand why. It even has a zinger at the end. But it wasn't as strong as a Twilight Zone script. It could have used a bit more oomph. Dickson was a prolific author of short stories and novels. He won three Hugo awards and one Nebula award in his lifetime.
"The Altruist" by James H. Schmitz — Colonel Magrumssen notices his scissors are missing, but they return while no one is around. He learns from an assitant to the Minister of Statistics that society as a whole experiences a two percent normal loss – that a small percentage of items indiscriminately disappear. Magrumssen determines to find the cause, allowing even the most bizarre hypotheses as he searches for the truth.
I don't think it's a plausible story. That doesn't take away from seeing how the protagonist's character changes during his investigation; that part held my interest. But this isn't nearly as strong as Schmitz's "Second Night of Summer" published in Galaxy's December, 1950 issue.
---
Matthew Wuertz's last retro review for us was the August 1952 issue of Galaxy Science Fiction.