Galaxy Science Fiction, August 1952: A Retro-Review
Galaxy Science Fiction, August 1952: A Retro-Review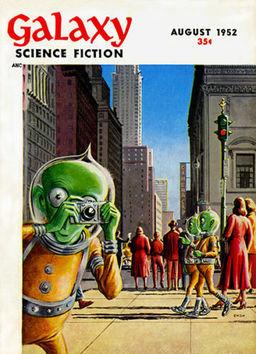 This is an issue I had looked forward to for a long time. One of my first steps toward reading Galaxy was listening to an X-Minus One radio broadcast titled "Surface Tension," based on the story with the same title by James Blish in Galaxy's August, 1952 issue. My wife had gotten this one for me early on, but I hadn't made my way to it until now.
"Surface Tension" by James Blish — Humans explore the galaxy, seeding adaptations of themselves on any Earth-like planets. Hydrot is all water and marshes, and the crew of La Ventura has only a short time before they die, stranded because their ship wrecked. So they create microscopic versions of themselves (but not with their memories) that can survive in water, hoping they can compete for survival without dominating the other lifeforms on the planet.
This was considerably different from what I remember of the radio broadcast. But it's a well-told story that's highly inventive.
"Proof of the Pudding" by Robert Sheckley — One man survives the final war on Earth by taking a ship into space. He returns to the desolate planet and discovers he has the power to create anything he imagines.
I had difficulty relating to the protagonist. Not to spoil too much, but the story picked up considerably with the introduction of a second character.
"Yesterday House" by Fritz Leiber — Jack Berry is a biology student working in Maine for Professor Kesserich.  Jack takes a boat past where he was told to go, and he discovers an island. As he explores it, he comes to a fence and climbs over. He meets a young woman who lives in a house, but she's convinced it's 1933 rather than 1951. Her aunts keep her on the island throughout the year, never allowing her to go to the mainland. He wants to prove the truth to her, if he can, without arousing her aunts' suspicion.
I loved this story. This was my favorite from the issue. It was reprinted in The Book of Fritz Leiber in 1974.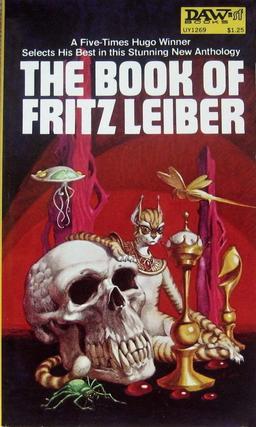 "Education of a Martian" by Joseph Shallit — Joyce finally reveals to her parents that she fell in love with a Martian. They've corresponded for months, and now she's leaving Earth to marry him. Her father fumes; her mother wilts.  They know the stigma of marrying a Martian, but she won't listen to reason. She leaves without their consent, excited to start a new life with Gregrill. But how much does she really know him?
This is a good piece for denouncing racism, and I think its message is still very topical. And as I type that sentence, I'm a bit saddened by that fact.
Gravy Planet (Part 3) by Frederik Pohl and C. M. Kornbluth — Mitchell Courtenay finds his wife on the moon, and she's deeply involved in the conservationist group. She was the person responsible for changing Mitch's identity and sending him to work in the Chlorella plantations, hoping it would change him from his consumer mindset.  Mitch tells her to get out of his life and rejoins Fowler Shocken, renewing his efforts on the Venus project.
Though Fowler Shocken doesn't believe all of the threats against Mitch's life or the sabotage, he agrees to keep a security team around them both, at least for a while. When he tires of what he thinks is a game, he dismisses his personal guards. Later that night, he's murdered, but his will gives the majority of the company's stocks to Mitch.
Now at the helm of the massive advertising agency, Mitch has everything he's dreamed of except his wife.  And there's that nagging feeling he has when he considers what he's learned from the conservationists — the true plight of consumers and the hope offered by a new planet, unsoiled by Earth's present society.
Mitch sends teams of people in search of his wife, hoping to talk to her again, both to understand her and himself. But to make things right with her, he'll need to leave all of his dreams in the past and sever ties to everything he once held as important.
This novel is a great ride. Again, you have to let go of true facts about Venus, but that's not the authors' fault. And when I think of so many modern movie plots that have glaring holes in them that we all let go for the sake of the fun, I simply ask for a similar treatment here. This is just a fun novel to read; it's as simple as that.
Gravy Planet was published as a novel under the title The Space Merchants in 1953. The first two installments appeared in the June and July issues.
---
Matthew Wuertz's last retro review for us was the July 1952 issue of Galaxy Science Fiction.