Vintage Treasures: The Silken Magic Books by Elizabeth Gilligan
Vintage Treasures: The Silken Magic Books by Elizabeth Gilligan
I published Elizabeth Gilligan's short story "Iron Joan" in Black Gate 3 (read the complete story here), and it was an immediate hit. The tale of an indomitable woman — the daughter of the High Chief of Glen Cluain, shamed by her father's house but gifted in her mother's secret arts — who mysteriously leaves home at seventeen to settle in a tiny village, was a powerful story that SF Reader called "A deep, well-written tale. Highly recommended."
Elizabeth Gilligan seemed to me like a writer destined for great things, and it wasn't long before I was proven right. He debut novel, Magic's Silken Snare, the first volume in Silken Magic, was published by DAW in April 2003, and was widely acclaimed. Locus called it an "Opulent tale and court intrigue and dark magics… [An] excellent first novel," and Romantic Times said "An alternate Sicily is splendidly revealed… [with] robust characterizations, multiple storylines, and clever delivery." It was followed by the second volume, The Silken Shroud, in April 2004, and it seemed obvious that this was the beginning of a stellar career.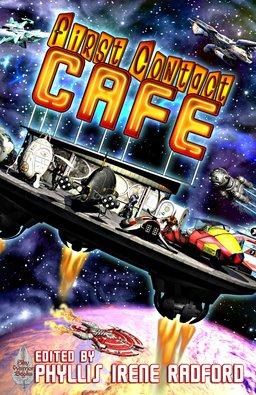 Alas, ElizaBeth's fast-rising star faltered shortly thereafter. A third volume in the series, Sovereign Silk, was announced but never released, due to the author's reported illness. No more short fiction was forthcoming, and ElizaBeth 's website has not been updated since 2009.
However, ElizaBeth's first short story in over a decade, "Tete-tete," recently appeared in the anthology First Contact Cafe, published by SkyWarrior Publications in February. I was very pleased to see it, and I hope it's evidence that ElizaBeth has picked up the pen again.
Only time will tell. But if we do see Sovereign Silk — or any other new work by Elizabeth Gilligan — arriving on bookshelves, no one will be more pleased than me. And I'll certainly keep you apprised of it here.
Here's the description for Magic's Silken Snare:
When the Owl called…

Luciana's heart was filled with dread. The first time she had heard the owl call three times she had been barely five – and her father had died. Over the years that followed, this herald of misfortune had warned of death several times, and on each occasion she had lost someone dear to her.

Now she was a grown woman with too many for whose safety she feared. Luciana's husband, Stefano, Duca di Drago, brother to the queen of Tyrrhia, was currently away fighting in the war against the Turks. Her grandmother, the Romani Queen, was at an age when death might easily claim her companionship. And Luciana's own beloved sister Alessandra was at the Tyrrhian court, an innocent among courtiers far too well-versed in intrigue.

But the truth would prove far more dreadful than Luciana's worst fears. For not only was Alessa dead, but her very soul was imperiled by the way she had died. Luciana had no choice but to journey to the White King's Court to seek out the one responsible.

Yet the trail she must uncover would lead Luciana into the gravest danger. And even the silken magic of the Rom might not prove strong enough to defeat the dark sorcery which had stolen her sister's very spirit, and now threatened to turn this power against the royal court….
Magic's Silken Snare was published by DAW in April 2003. It is 556 pages, priced at $6.99 in paperback. The cover is by David Bowers. There is no digital edition, but the book is still in print.
And here's the description on the back of The Silken Shroud:
Gypsy magic

had gifted Alessandra, the Romani princess, with the blessing of the Fairy folk. So when death claimed her at the White King's Court in Tyrrhia, not only her own clan and the man she loved, Maggiore Mandero de Montago, but the Fairy folk too, cried out for justice and revenge. For Alessandra's corpse had been stolen… bound by spells to entrap her soul…so her energy could be used to work dark magic. If her body wasn't found and her soul wasn't set free within a year, she woul be transformed into a creature of evil, the goodness within her completely consumed.

Alessa was held by a master of the dark arts, a man who had a high position in the Church and who might yet call upon powerful allies for support. And even with the magic of the Rom and the Fairy folk to aid him, Mandero would be in terrible jeopardy as he sought to find and free Alessa from her earthly prison. Yet he must try at all costs, for the stakes were far higher than the loss of one soul, no matter how beloved. If the enemy's plans could not be overturned, all Tyrrhia might be plunged into a religious war which could see an end to the stronghold of peace, tolerance, and true magic…
The Silken Shroud was published by DAW in April 2003. It is 480 pages, priced at $6.99 in paperback. The cover is by David Bowers. like the first volume, there is no digital edition, but the book is still in print.
See all of our recent Vintage Treasures here.