Goth Chick News: Goth Chicks in Literature Rock Utterly…
Goth Chick News: Goth Chicks in Literature Rock Utterly…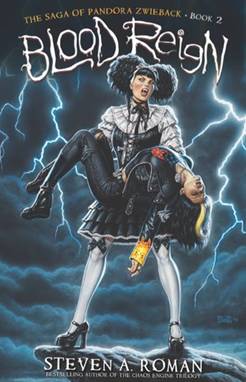 It's been three years – count them because I sure have – since I crushed on author Steven Roman over his first novel Blood Feud.
Back then I was all enamored due to the fact that Roman's main character, Pandora (Pan) Zwieback, was a zombie-shooting, werewolf booting, leather clad heroine of a goth chick.
Finally, a book I could relate to.
Never mind that Blood Feud landed in the "young adult fiction" category either. Roman doesn't insult readers of any age, with lip-nibbling, flannel-wearing whiners. These characters were a dark fantasy cross-over all the way, with nary a "romantic" slipped in there anywhere.
If Roman's name sounds familiar it may be because before Blood Feud he was responsible for highly successful, but mainly fan-boy facing fare such as X-Men: The Chaos Engine Trilogy and Final Destination: Dead Man's Hand, as well as appearing in anthologies such as Untold Tales of Spider-Man and Dr. Who: Short Trips.
I'm not knocking Roman's horror chops – no way, not now.
But when you're a guy taking on the persona of a sixteen-year-old goth girl and aiming your story at a young adult audience, you're taking on a whole new level of imagination.
And Roman delivered in spades.
But then, just when I was about to task one of the worthless Black Gate interns with cyberstalking Roman on my behalf – he goes quiet.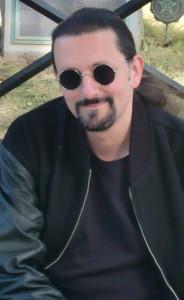 Did Roman catch wind of my enthusiastic appraisal of his literary talents, or had Stephanie Meyer done something dastardly in retaliation for his "no teenage angst" approach?
As of today, I have no idea as to the cause of Roman's long hiatus; I am just relieved to tell you that book two in the saga of Pandora Zwieback is finally on store shelves.
Blood Reign picks up about five minutes after the cliff-hanging ending to Blood Feud. Turns out Roman is a James Bond fan and appreciated how Quantum of Solace's opening scene takes place a few minutes after the ending of Casino Royal. And considering how Blood Feud ended, us "Panatics" (Pan fans) are pretty glad about it.
Here's the book blurb:
She was stabbed in the heart with an ancient spear. Her mother was kidnapped by a band of vampires seeking to unleash hell on earth. And every living creature on the planet faces extinction at the hands of a race of ancient monsters.

But for Pandora Zwieback, teenage monster hunter in training, the worst may be yet to come.
So go ahead, pretend you're buying this for some young female relative if you must – but you are going to want to dive into Roman's supernatural world, even if you haven't read the first installment.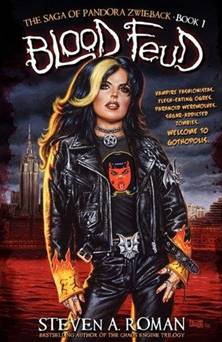 Because in the end Steven Roman gets it. He understands that the men of Black Gate may still not be convinced and he's made provisions for it. The Saga of Pandora Zwieback is also a comic. And double bonus; it's available online.
Comic fan-boys, commence clicking that link – trust me.
Plus, though the project might be a dark-fantasy series instead of a superhero adventure, Roman assures fans familiar with his X-Men novels that there's something for them as well.
Just like The Chaos Engine Trilogy, Pan's story has action, it's got romance and humor, and it's got the thing I'm most known for: multilayered characterization. So, come for the monster hunting, stay for the widespread destruction and the oddball characters 'cause if you've read my stuff you know I never write about normal people.
And with that Steven, you will always be welcome at Black Gate.
Blood Feud is available now on Amazon in print or eBook.