Future Treasures: The Year's Best Science Fiction: Thirty-Second Annual Collection, edited by Gardner Dozois
Future Treasures: The Year's Best Science Fiction: Thirty-Second Annual Collection, edited by Gardner Dozois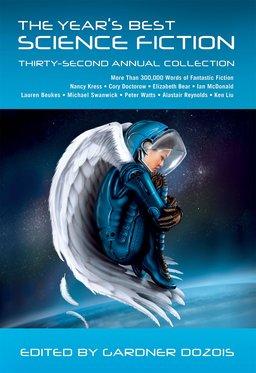 There are roughly ten Year's Best volumes currently being published in the speculative fiction market, but they all bow before Gardner Dozois' The Year's Best Science Fiction. The Thirty-Second volume in this venerable series will be published in July.
Now, believe it or not, there were Year's Best series before Gardner. Everett F Bleiler and T.E Dikty edited the first volume of The Best Science Fiction Stories way back in 1949 (I know, right? Who knew there was good science fiction in those days!) Judith Merril edited twelve volumes of The Year's Greatest Science Fiction and Fantasy (1956-1967), while Donald Wollheim, Terry Carr, Lin Carter, Arthur Saha, Harry Harrison and Brian Aldis, and Lester del Rey all tried their hand at it for a while, with varying success. Gardner Dozois edited the Del Rey series, taking over from Lester del Rey, from 1977-81, until starting over again with The Year's Best Science Fiction: First Annual Collection in 1984 (There's a nice summary of all this history in Scott Laz's review of that very first volume here.)
Gardner's The Year's Best Science Fiction was exceptional right from the very beginning. For one thing, most prior books — even market leaders like Terry Carr's The Best Science Fiction of the Year — were slender paperback originals. With his first volume Gardner delivered a massive 575-page hardcover, packed with 25 stories — including a couple of novellas, like Dan Simmons' knockout "Carrion Comfort."
He also began what quickly became one of the most-read columns in the entire industry: his lengthy, frank, and often highly opinionated annual summation, covering news, magazines, anthologies, movies, deaths, awards, the birth and growth of fan websites, podcasts, and much more. His first one in 1984 was a thin 17 pages, but over the decades Gardner's comprehensive report card on the field grew to nearly 100 pages. I, for one, read them cover-to-cover.
To read Gardner's The Year's Best Science Fiction every year is to get the pulse of the entire industry. All the new writers, literary movements, shake-ups, and happenings in the field — it's all there at your fingertips.
Full disclosure: I always geek out a little bit when I get The Year's Best Science Fiction, and this year was no exception. I was listed in the Acknowledgements, as I have been for many years now, and Gardner gave a nice shout-out to Black Gate, with the usual paragraph about our goings-on for the year. Gardner was also one of the very first editors to acknowledge SF Site when I was struggling to get it recognized nearly 20 years ago. So I'm kind of a fanboy.
With that out of the way, here's a quick peek at the blurb on the back:
The multiple Locus Award-winning annual compilation of the year's best science fiction stories

In the new millennium, what secrets lay beyond the far reaches of the universe? What mysteries belie the truths we once held to be self evident? The world of science fiction has long been a porthole into the realities of tomorrow blurring the line between life and art. Now, in The Year's Best Science Fiction Twenty-Fifth Annual Collection the very best SF authors explore ideas of a new world. This venerable collection brings together award winning authors and masters of the field such as Nancy Kress, Cory Doctorow, Elizabeth Bear, Ian McDonald, Michael Swanwick, Lauren Beukes, Peter Watts, Alastair Reynolds, and Ken Liu. And with an extensive recommended reading guide and a summation of the year in science fiction, this annual compilation has become the definitive must read anthology for all science fiction fans and readers interested in breaking into the genre.
There's some fabulous science fiction in this volume and, as usual, we'll get to watch as awards season rolls around and see how many of the stories Gardner champions make it onto the major award ballots.
Except, whoops, no we won't, because this year the Hugo ballot was commandeered by a bunch of nitwits.
Gardner's volume may be your best best to help you find the short fiction the Hugo ballot normally would have turned you on to. This year, it's even more essential than usual. And that's saying something.
The Year's Best Science Fiction: Thirty-Second Annual Collection will be published by St. Martin's Griffin on July 7, 2015. It is 704 pages, priced at $40 in hardcover, $22.99 in trade paperback, and $10.99 for the digital version.
See all of our reports on upcoming books of note here.