Jim Starlin's Dreadstar in Development as a TV series
Jim Starlin's Dreadstar in Development as a TV series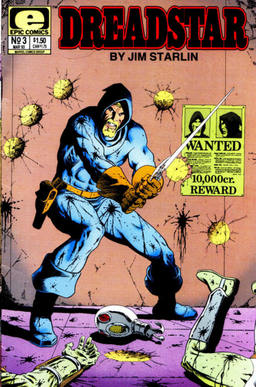 Jim Starlin, who has seen several of his most famous comic creations transition to the big screen, has reportedly signed a deal to bring his long-running space opera Dreadstar to television.
Jim Starlin is famous in comic circles as the creator of Thanos, the villain of the upcoming Avengers: Infinity War films, as well as Drax the Destroyer and Gamora, two members of the Guardians of the Galaxy. His run on Captain Marvel, which introduced Thanos and his quest to end all life to prove his love for Death, was a high-water mark for superhero comics of the 1970s, and elements from his Infinity Gauntlet storyline have become the unifying storyline for Phase II of the Marvel Cinematic Universe.
In 1980 Stalin introduced a new character, Vanth Dreadstar, in Epic Illustrated #3. Dreadstar's early adventures were eventually collected in Metamorphosis Odyssey, a grim far future tale of a desperate battle against the Zygoteans, who conquer and enslave virtually all life in the Milky Way. Metamorphosis Odyssey ended with Dreadstar and his companions destroying the entire galaxy, rather than have it fall into the hands of the Zygoteans (I told you it was grim).
No one really dies in comics though, and Dreadstar eventually returned in Dreadstar #1, one of the flagship titles of Marvel's new Epic comic line, in 1982. Epic published 26 issues before Dreadstar switched publishers to First Comics. Starlin wrote and drew all the issues until he left with issue 41 (March 1989), and Peter David took over writing chores. Dreadstar lasted a total of 64 issues.
Dreadstar had a very different feel to Metamorphosis Odyssey. Whereas the latter is considered an allegory, Dreadstar is straight-up space opera. Set a million years after the destruction of the Milky Way, and halfway across the universe, it follows the adventures of Vanth Dreadstar and his crew of gifted oddballs, including the powerful sorcerer Syzygy Darklock and the wise-cracking Skeevo, as they get caught up in a galaxy-spanning conflict between the Monarchy and the tyrannical Church of the Instrumentality. Dreadstar was closer in spirit to Star Wars than anything else, with desperate battles, betrayals, robots, and ancient and mystical powers influencing events at critical moments.
Variety reports that Universal Cable Productions and Benderspink will develop the series, with Starlin serving as executive producer and writer. No word on a release date yet. See the complete article here.