Vintage Treasures: Orbit 3, edited by Damon Knight
Vintage Treasures: Orbit 3, edited by Damon Knight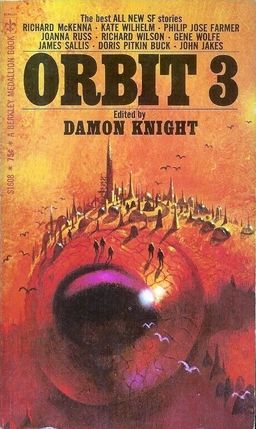 I enjoy reading vintage anthologies for pretty much the same reason I enjoy reading modern anthologies: they're a great way to discover terrific new writers. Or in this case, terrific old writers.
Plus, they're cheap. In any decent used bookstore, you can usually find at least one or two old SF anthologies priced less than a buck. (If you're not sure what a "used book store" is, exactly, never mind. It's even easier to find cheap anthologies on eBay, if that helps you.)
I admit I haven't tried very many of Damon Knight's Orbit volumes. But after making my way through most of the major SF anthologies of last century — The Hugo Winners, the Science Fiction Hall of Fame, Before the Golden Age, Dangerous Visions, the Carr and Wollheim's Year's Best volumes — I think I'm ready to branch out a bit.
While Orbit routinely showcased some of the finest science fiction and fantasy writers of the 20th Century — including folks like Gene Wolfe, R. A. Lafferty, Philip Jose Farmer, and Knight's wife, Kate Wilhelm — it also had something of a reputation for being on the cutting edge of the controversial New Wave. It wasn't at all unusual to find readers loudly deriding the sometimes plotless, experimental fiction within, or criticizing fiction they disliked in letters columns around the industry as "too much like that Orbit stuff."
Nonetheless, the series was quite popular. It ran for 21 volumes (not including a huge Best of Orbit collection) from 1966 to 1976, and helped cement's Knight's reputation as one of the best editors in the field. He took a lot of chances with Orbit, both in the fiction he chose and the authors he championed, but over and over again it seemed to pay off. While most editors worked hard to attract big names, Knight seemed to think nothing of having three quarters (or more) of his table of contents staffed entirely with newcomers. It must have made it difficult to attract buyers, but it certainly kept the series constantly fresh.
One of my favorite artists of all time, the great Paul Lehr, provided the covers for the paperback editions of Orbit. As abstract as much of the fiction, Lehr's artwork for the first dozen or so featured miniature planetoids, and the image at left is no exception. For what seemed like a rather narrow artistic theme, Lehr still managed to produce wildly different covers for each volume.
We're going all the way back to Orbit 3 for this column, because I feel like starting near the beginning. And because this is the volume I found most recently, in a jumbled collection of paperbacks I bought on eBay for less than 40 cents each. And especially because the marketing blurb on the back calls this one "the third and most bizarre volume of the exciting new Orbit series."
Here's the complete blurb:
Here is the third and most bizarre volume of the exciting new Orbit series — a superb and uncanny collection of SF stories, appearing for the first time in paperback, by the finest of today's SF writers.

In "Bramble Bush," Nebula Award winner Richard McKenna weaves a dazzling web of anthropology, symbology, anatomy – and magic. Richard Wilson contributes a moving variant on the "last man" theme; Doris Pitkin Buck explains "Why They Mobbed the White House," and Philip Jose Farmer warns, "Don't Wash the Carats."

Also included are stories by Joanna Russ (the third in the Alyx series), Gene Wolfe, Kate Wilhelm, James Sallis and John Jakes.
Here's the Table of Contents:
"Mother to the World" by Richard Wilson
"Bramble Bush" by Richard McKenna
"The Barbarian" by Joanna Russ
"The Changeling" by Gene Wolfe
"Why They Mobbed the White House" by Doris Pitkin Buck
"The Planners" by Kate Wilhelm
"Don't Wash the Carats" by Philip Jose Farmer
"Letter to a Young Poet" by James Sallis
"Here Is Thy Sting" by John Jakes
Orbit 3 was published by Berkley in 1968. It is 224 pages in paperback, priced at $0.75. The cover is by Paul Lehr.
See all of our recent Vintage Treasures here.