New Treasures: One Night in Sixes by Arianne 'Tex' Thompson
New Treasures: One Night in Sixes by Arianne 'Tex' Thompson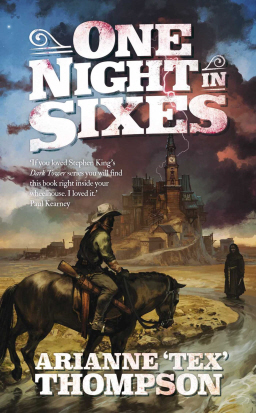 We get a lot of review copies every month here at the Chicago rooftop headquarters of the Black Gate global publishing empire. You know what else we get? Press releases, pre-release galleys, PDFs, free Kindle books, stuff like that. We could never leave the office, and still keep you decently posted on the newest fantasy every month.
But we don't aim for decent. We aim to keep you completely informed on the very best in the genre. And that means putting feet on the street, talking to folks in the industry, and visiting to bookstores. Lots and lots of bookstores. Like yesterday, where I found a copy of a fascinating "rural fantasy" from new writer Arianne 'Tex' Thompson. I would never have discovered her first novel if I hadn't been wandering the aisles at B&N, and believe me, it deserves your attention.
The border town called Sixes is quiet in the heat of the day. Still, Appaloosa Elim has heard the stories about what wakes at sunset: gunslingers and shapeshifters and ancient animal gods whose human faces never outlast the daylight.

And the daylight is running out. Elim's so-called 'partner' — that lily-white lordling Sil Halfwick –- has disappeared inside the old adobe walls, hell-bent on making a name for himself among Sixes' notorious black-market traders. Elim, whose worldly station is written in the bastard browns and whites of his cow-spotted face, doesn't dare show up home without him.

If he ever wants to go home again, he'd better find his missing partner fast. But if he's caught out after dark, Elim risks succumbing to the old and sinister truth in his own flesh – and discovering just how far he'll go to survive the night.
One word of warning: One Night in Sixes is the kind of novel that has a 10-page glossary and 11-page "People and Place" reference in the back. If that scares you, go back to reading E. Nesbit and the Ranger's Apprentice books. Lightweight.
One Night in Sixes was published on July 29, 2014 by Solaris Books. It is 439 pages (plus all those glossaries and stuff), priced at $7.99 in paperback and $6.99 for the digital edition. The moody and effective cover is by Tomasz Jedruszek.