New Treasures: Medicine For the Dead by Arianne 'Tex' Thompson
New Treasures: Medicine For the Dead by Arianne 'Tex' Thompson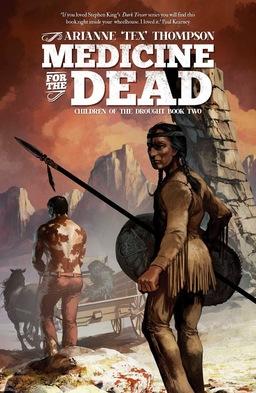 One of the more popular books I featured in my New Treasures coverage last year was the debut fantasy novel by Arianne 'Tex' Thompson, a delightful weird western titled One Night in Sixes. The border town of Sixes is quiet in the heat of the day, but at sunset wake the gunslingers and shapeshifters and ancient animal gods whose human faces never outlast the daylight. Appaloosa Elim had to enter Sixes to find his so-called 'partner Sil Halfwick, who disappeared inside in the hope of making a name for himself among Sixes' notorious black-market traders.
And now the story of Appaloosa Elim continues in Medicine For the Dead, Book Two of Children of the Drought, published by Solaris in March.
Two years ago, the crow-god Marhuk sent his grandson to Sixes. Two nights ago, a stranger picked up his gun and shot him. Two hours ago, the funeral party set out for the holy city of Atali'Krah, braving the wastelands to bring home the body of Dulei Marhuk.

Out in the wastes, one more corpse should hardly make a difference. But the blighted landscape has been ravaged by drought, twisted by violence, and warped by magic — and no-one is immune. Vuchak struggles to keep the party safe from monsters, marauders, and his own troubled mind. Weisei is being eaten alive by a strange illness. And fearful, guilt-wracked Elim hopes he's only imagining the sounds coming from Dulei's coffin.

As their supplies dwindle and tensions mount, the desert exacts a terrible price from its pilgrims – one that will be paid with the blood of the living, and the peace of the dead.
Read the first pages at Thompson's website. Medicine For the Dead was published by Solaris on March 24, 2015. It is 480 pages, priced at $7.99 in paperback and $6.99 for the digital edition. The cover is by Tomasz Jedruszek.