Goth Chick News: Dracula Meets Game of Thrones
Goth Chick News: Dracula Meets Game of Thrones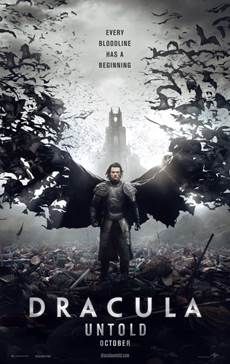 There is no denying the juggernaut that is the HBO series Game of Thrones.
As the BBC pointed out in a recent article, GoT has whipped its 18.4 million viewers into a lather about an entertainment category we hadn't seen to this magnitude in some time.
In appealing to its audience's need for escapism, Game of Thrones revitalized a genre that few knew needed revitalizing: the sword-and-sandals saga, a once-hardy movie sub-species that gave us serious-minded epics like Ben-Hur, as well as primitively-animated Ray Harryhausen monster movies.
So with that many eyeballs pointed toward the screen for GoT's season four, and with seasons five and six already green-lighted, it was inevitable that other filmmakers would be inspired to break out the leather strapping and chainmail.
But I did not see this one coming…
This week Universal Studios posted the first trailer for their upcoming release Dracula Untold, led by freshman director Gary Shore (and I do mean freshman: his only other directing credit, since graduating from film school in 2006, is a short film). So either Short is a film school prodigy or someone has some naughty pictures of someone at Universal.
Dracula Untold stars Luke Evans (Fast & Furious 6) as "Vlad Tepes" and Sarah Gordon (The Amazing Spider-Man 2) as Vlad's first wife "Mirena." It also stars Abraham Lincoln: Vampire Hunter hottie Dominic Cooper as Vlad's Turk nemesis, "Mahmed."
Though I was unable to find a good synopsis of the plot, it's not difficult to see exactly what is going on from the trailer. Vlad's home and hearth are threatened by the Ottoman Turks and as it becomes likely that his army is not going to be able to hold them off, Vlad seeks supernatural help from a legendary being living in the mountains of Transylvania.
The resulting carnage is fairly impressive… but then Vlad's new-found power inevitably takes a seriously bad turn.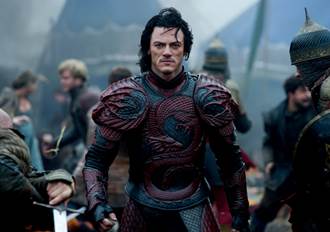 After watching the trailer I couldn't help but continue to think about that BBC article, which went on to say:
The typical costume drama is most often based on, and constrained by, historical fact – and facts can be irritating mosquitos circling the heads of viewers annoyed at having to recall stuff they dozed through in school. It's a tedious reliance upon history that slowed down and sometimes mired the clash-and-duel TV shows that preceded (GoT), such as Rome and Spartacus.
Clearly we don't have much of this issue with Dracula Untold. Though Vlad Tepes was a real person with a real and documented history, the whole vampire part was tacked on later (as far as you know) so Universal, like HBO is free and unfettered to weave a magical tale populated with medieval carnage, magnificent empires and bodices worthy of ripping.
Unfortunately, I'm just a wee bit worried the trailer may be the best parts and we've just seen them.
The production has a somewhat troubled history, which rarely bodes well for the finished product. In 2007, Universal Pictures was gearing up to produce a film called Dracula: Year Zero, but later pulled out of the deal because of the high budget.
Then in February, 2012 Deadline reported that Shore was in talks to direct an entirely new script for the reworked film, originally set for release in August, 2014. Later that year, Legendary Pictures stepped in to co-finance the project with Universal and the release date was moved to October 2014, presumably to capitalize on our Halloween-inspired vampy moods.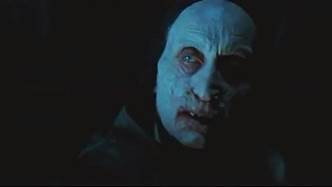 Beyond the genre comparisons, we have an actual GoT crossover in the form of Charles Dance ("Tywin Lannister"), who plays the unnamed monster Vlad Tepes seeks for help in defeating the marauding Turks.
And that's not all in the "recycling" department: the trailer is soundtracked by Lorde's cover of Tears for Fears' "Everybody Wants To Rule The World," that was recorded for The Hunger Games: Catching Fire.
Dracula Untold is the first big budget solo Dracula movie produced by Hollywood for release theatrically in nearly 14 years; since Dracula 2000. And as it's clear Vlad isn't sparkling, attending high school, or wearing plaid, I'll see it – but I'm afraid I'll wish I stayed home with John Stark…
Am I being too harsh or did that effect with Vlad's hand and the bats also remind you of The Mummy and Imhotep with the sand? Post a comment or drop a line to sue@blackgate.com.