Goth Chick News: Comics Collector as Movie Hero; Or A Valentine From My Favorite Indy Film Crew
Goth Chick News: Comics Collector as Movie Hero; Or A Valentine From My Favorite Indy Film Crew
As you well know, we here at Goth Chick News are mad supporters of the independent film industry.  This is mainly because we're obsessed with anyone who has the courage and determination to pursue their passion and are willing to let us watch.
That and I'm a sucker for brooding artistic boys…
And no one epitomizes these traits better than my friends at Pirate Pictures, who gave us a peek into the world of real movie magic by allowing us to ride along with their production of Shadowland.  Now, Shadowland star Jason Contini and director Wyatt Weed have teamed up on a new project that isn't exactly a typical GCN subject matter, but does involve a topic that is near and dear to most Black Gate fans… comics.
Four Color Eulogy is a drama/comedy revolving around the world of comic books and self-publishing. But rather that tell you any more, take a gander at this clip that not only explains the movie, but some of the process of getting a concept from script to big screen.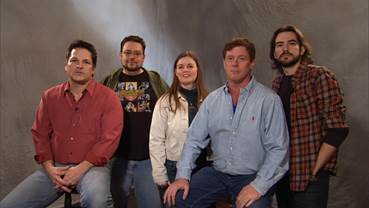 You just have to love anyone as passionate about comic books as Nick.
As you heard, like many in the indy film world, the creative minds behind the movie have also gotten creative with funding their venture.  As Jason explains:
But it's not just a film about comic book collectors.  It is an opportunity for comic book collectors and indie film lovers to actually get involved and be a part of the next great indie geek-centric movie.

Currently we are running a fundraising campaign online where you have the opportunity to be a part of the film.  We are giving out a plethora of incentives to those that donate and take part in the filmmaking process.
Four Color Eulogy is in the early stages of casting, location scouting and pre-production, and the gents have once again agreed to keep us in the loop.  We'll be interviewing Jason and Wyatt in an upcoming post, so if you're an aspiring filmmaker (and I know we have a bunch out there), post a question or send an email to sue@blackgate.com and we'll put it to the experts.