Ares Magazine Kickstarter Succeeds!
Ares Magazine Kickstarter Succeeds!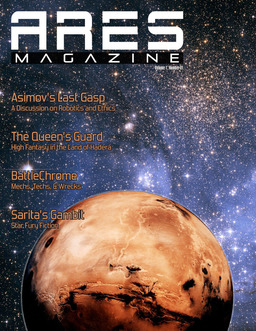 Recently, I wrote about the Rebirth of Ares Magazine. Earlier this month, they wrapped up a successful Kickstarter campaign, raising $26,185, or 105% of their goal.
Now, they're moving forward to deliver their premiere issue in May.  The issue will contain the complete two-player game War of the Worlds, designed by Bill Banks, and a nice mix of intriguing articles, including:
Asimov's Last Gasp – A discussion on Robotics and Ethics
The Queen's Guard – High Fantasy in the land of Hadera
BattleChrome – Mechs, Techs, and Wrecks
Sarita's Gambit – Star Fury Fiction
along with three short stories, interviews, ads, and other content.
Ares is inspired by the classic Ares Magazine, published by SPI between 1980 and 1984. It included a complete SF or fantasy game in every issue, including Greg Costikyan's classic Barbarian Kings and Citadel of Blood; The High Crusade, based on Poul Anderson's 1960 novel of interstellar conquest on horseback; The Wreck of the B.S.M. Pandora; Nightmare House; The Omega War; and nearly a dozen others.
The issue will be 80 pages in full-size (8.5″ x 11″) format; future bi-monthly issues are already in the works. Keep up on the latest news on their website.
Congratulations, Ares!