The Rebirth of Ares Magazine
The Rebirth of Ares Magazine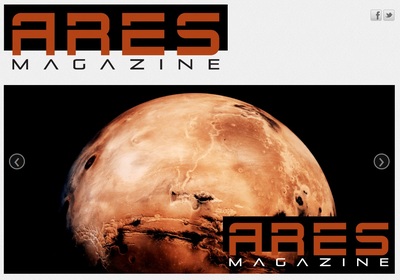 In the early '80's, Simulation Publications, Inc. (aka SPI) published a magazine named Ares. It included science fiction and fantasy along with articles and a complete game in every issue. It was short-lived, lasting only 19 issues, and Dragon revived it briefly within its own pages as an Ares section (see our review of issue #3 of the original magazine, featuring the game Barbarian Kings). And so it remained as an intriguing concept that simply ceased publication.
But that wasn't the last hope for Ares. As Yoda would say, "No, there is another." One Small Step Games, under Michael Anderson, decided to venture into remaking the old magazine. "The big idea is to fill a void," says Anderson, "a new magazine that combines a standalone, unique, playable board game in every issue with a collection of spectacular, new fiction."
With pay rates of five cents per word, Ares is serious about finding great fiction. Their preferred genres include fantasy, science fiction, horror, and pulp adventure.
They plan on publishing bi-monthly, and each issue will include 80 pages of fiction and other content, wrapped around the playable game. The first game will be War of the Worlds by independent game designer Bill Banks.
On January 1, Ares will launch a Kickstarter campaign to raise funding for this endeavor. If successful, the target delivery date for the first issue is May 1, 2014.
A magazine of speculative fiction AND a playable game? That sounds like a great combination to me.
Check out their website for more information: Ares Magazine.