Vintage Treasures: Fair Peril by Nancy Springer
Vintage Treasures: Fair Peril by Nancy Springer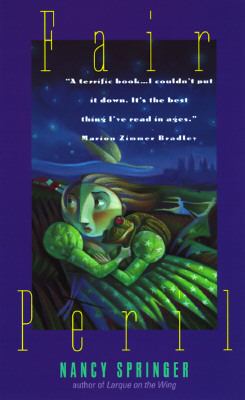 Fantasy writer Nancy Springer has had an enviable career. In 1979, her first published novel, The White Hart, kicked off a successful five-volume series, The Book of the Isle. She followed it with more than 40 additional novels, including The Hex Witch of Seldom (1988), Not on a White Horse (1988), Apocalypse (1989), and the Tiptree Award-winning Larque on the Wing (1994).
She's been nominated for all of the top awards in the field — including the World Fantasy Award, the Hugo, and the Nebula, all for her short story "The Boy Who Plaited Manes" (from the October 1986 issue of F&SF). Her last novel, The Case of the Gypsy Goodbye, the sixth of The Enola Holmes Mysteries, was published in 2010.
In 1996, Springer took a chance with a very different novel, a modern fairy tale featuring a talking frog, a rebellious teen girl, and a professional storyteller named Buffy. Fair Peril was the first Nancy Springer novel I ever purchased and it eventually led me to track down most of her other books.
The talking frog professional storyteller Buffy Murphy finds in a Pennsylvania pond is begging for a kiss. But the last thing newly divorced Buffy needs is yet another needy male passing himself off as an enchanted prince. Her rebellious teenage princess daughter, Emily, however, is too young to know where a kiss can lead – and soon it's leading mother, daughter, and a hunky blond former amphibian named Prince Adamus to the mall. For there lies the realm of Fair Peril – where wishes become punishments, where everything is itself yet something other… and where it will take a dutiful mom's considerable power of storytelling to salvage her child's future, her daughter's love.
The gorgeous cover by Mary GrandPré was the first thing that caught my eye — and I still love it today, nearly 20 years later.
Fair Peril was published by Avon Books in November 1996, and reprinted in paperback by AvoNova in July 1997. It is 246 pages in paperback, with an original cover price of $5.99. It has never been reprinted and is currently out of print. There is no digital edition.
See all of our recent Vintage Treasures here.