Weird of Oz Reminisces: A Friend of the Imagination
Weird of Oz Reminisces: A Friend of the Imagination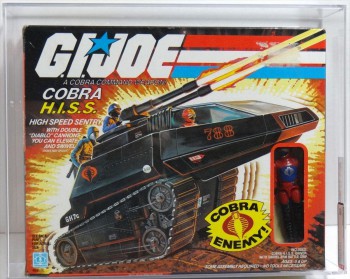 When I say "a friend of the imagination," I do not mean an imaginary friend. Shane was, and is, real. The only son of one of my mom's dear friends, he loomed large in the first decade of my life, though I only saw him about once a year.
I'm sure that when you cast your mind back to that first, formative era — to the halcyon days of youth that began your journey and shaped its course in ways both obvious and subtle — you recall some friend or acquaintance who holds a special place in your own private history's pantheon of important people. Perhaps he or she first introduced you to something — an idea or hobby or sport — that would prove to be a lifetime love, a lifelong pursuit.
Shane was one such person, a boy who unwittingly (and, perhaps to this day, unbeknownst to him) enriched my creativity and broadened my imagination. I can't help but think his example had some impact on my career as a creative writer; it was, at least, one branch in the confluence of influences that brought me here to this moment, writing a blog for Black Gate.
Shane's mom had grown up with mine but moved to California, so about once a year she and her son came to visit us in Arizona. These visits account for some of my earliest and fondest memories. To them I can trace important moments in the unfolding path I have followed. Granted, some of these imaginative leaps might have come in other circumstances had Shane never come from that faraway country sung about by the Beach Boys. There were many other seminal formative events, particular authors and movies (it is a time of life that is littered with such discoveries, naturally), but Shane happened to be the one who nudged my imagination along on almost an annual basis throughout my grade-school years, like a sensei who periodically appears and says, "All right. You're ready for the next level. And this one is particularly rad and gnarly." (Okay, I can't recall if he actually used '80s surfer slang, but I think he did use some. We all did. It was in the air.)
Shane is about a year older than me. We were close enough in age that we could play amicably; the shared toys and games held our mutual interest. At the same time, his seniority meant I looked up to him. Boy did I ever. Whenever my mom announced that Shane and his mom would be coming in a week, I'd be amped up with anticipation like I'd gotten word the crown prince was coming to pay a visit to our hamlet — and stay in our cottage!
He was a lean, sandy-haired boy, lightly freckled by beach weather. An athletic baseball player, he really fit the bill for an all-American boy. Fortunately for me (a big but awkward, not-so-athletic kid — I was asked a lot if I played football. The answer was always No), his interests did not end with the usual suspects — sports, fast cars, sports. His wide-ranging, limber mind was broad enough to encompass hobbies that would be stereotyped as "geeky" or "nerdy." And herein lies his significance as an early mentor to yours truly.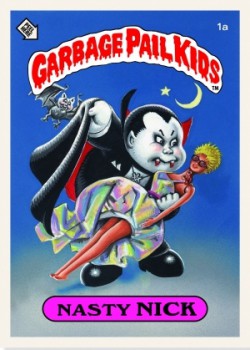 Just three or four memories in particular will convey how this lad helped mold the shape of my imagination. I will share them chronologically, although the last two are by far the most notable.
We'll start out small: with baseball cards. One summer, instead of Shane and his mom coming to AZ, we visited them in CA. There is very little about this trip I do remember, because I'm rooting way back into my oldest memories, where they are most fragmented and spotty. I must have been about five years old, give or take a year. I was not much into sports back then, but Shane dug football and baseball. He had a collection of those miniature plastic football helmets, as well as sports cards, things that never particularly piqued my interest. The cards I collected tended to be movie and TV tie-ins — Star Wars, Jaws, Battlestar Galactica, ET—or parody cards like Wacky Packages and, later, Garbage Pail Kids.
But Shane's baseball cards weren't just for collecting, to be tucked away in little plastic sleeves and indexed into a cardboard box. No, he assembled a playing field, situating the cards around an imaginary diamond on his dresser. For the baseball, he bit off a tiny corner of a card and turned it into a spitball.
Play ball!

A card came up to bat.

Strike one.

Foul ball, strike two.

Crack!

Line drive between second and third — will the shortstop get there in time, or will he just stand there like a piece of cardboard?
After that, I started buying baseball cards too, and abusing them similarly. This was perhaps the first indication of the malleability of Shane's imagination: that he could transform a pack of cards into an exciting ballgame.
One other random, rather inconsequential, fragment of memory from that CA visit was our playing with animals in the bathroom — those little plastic farm and safari animals you got in bags off the toy rack in grocery stores. Why this impressed so strongly, I can only speculate: I think it was the incongruity of the figures and the setting. Cows and rhinos and chickens and lions roaming across gleaming white tile. The rim of the sink became a barnyard; the lip of the tub became an African savannah. Again, the young imagination was further unfettered: it could transform any place into someplace else.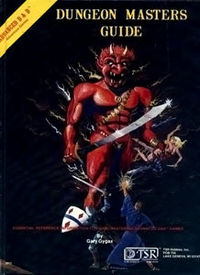 Now we get to a biggie (and if you're still with me this far in my personal reminiscence, I hope this is a bit of a pay-off). By the time I was in the third grade, I'd amassed a pretty good collection of Star Wars and G.I. Joe action figures, thanks to Santa, the Easter Bunny, birthdays, and my Nan. Like most kids, I played with the figures by following the blueprint of the movies and comic books and cartoons. The good guys were the good guys; the bad guys were the bad guys; they all had clearly delineated personalities and storylines written by someone else.
Shane showed up that spring and changed all that.
"This guy here," he said, picking up a Star Wars bounty hunter, "he's gonna be a good guy named Zac, and he's fighting" — brandishing a G.I. Joe figure — "this bad guy, who's a slave trader." I don't actually remember whether he used the name "Zac," if slave trading was involved, or which figures he re-assigned new characters, new alignments, new storylines completely divorced from the scripts of Kenner and Hasbro — I only know that suddenly these figures were freed from their pre-scripted shackles and could be whoever I wanted them to be, limited only by my own imagination.
A light bulb went off — an epiphany moment! Joes and Star Wars figures could now intermix in my unfolding mini-dramas, because they didn't have to be either from a galaxy far far away or from an elite counter-terrorism unit battling Cobra. The narrative slate was wiped clean! Maybe today I could pretend that this black, vinyl-caped figure was not Darth Vader but a cyborg cop…with a sidekick, who will be…this little green fellow once known as "Yoda," who is now a mutant empath. And, let's see, their arch-nemesis will be this weird robot that I think came from Disney's Black Hole toy line. He has a whole pack of evil, little blue henchmen — formerly known as Smurfs — and boy are they wicked and depraved.
Re-imagining these toys as props for my own blank canvas was not the only way Shane freed me from the tyranny of predestined toys. I had a few of the snazzy tie-in vehicles as well, but one evening he suggested we make our own. Our moms must've taken us shoe-shopping that day because we had some empty shoeboxes on hand. With scissors, tape, construction paper, empty toilet-paper rolls, and markers, we transformed these boxes into our own ships, made to scale for our action figures. I loved those home-made ships even more than the fancy, spendy, store-bought ones because, of course, something of ourselves went into them. The prepackaged, mass-produced vehicles were pretty cool, admittedly, with the tiniest details matching their counterparts in the comics or cartoons. But our flimsy little masterpieces were cool entirely in their own unique way. I played with them for weeks after Shane left for the west coast, dutifully patching and taping when parts fell off. Of course, eventually they completely fell apart. I remember them more fondly than any of the plastic vehicles I had. If only my parents had known, they could've saved hundreds at Christmastime!
Then came the visit that would prove to be one of the more momentous in my young life, introducing a new interest that would prove far-reaching and transformative. (No, not girls. I was still a year or two shy of that interest.)
Since I had seen him last, Shane had become a Dungeon Master. (That might not be the best lead-in. It sounds like some kind of kinky bondage thing — except to readers of this column, who will know exactly what I'm talking about.) Whispers and rumors preceded the visit. After my mom talked to Shane's mom on the phone, she passed along the news that Shane had taken up a new game, had really gotten into it, and would be bringing it along and teaching it to me. What was this game with the mysterious name? What did it have to do with dragons?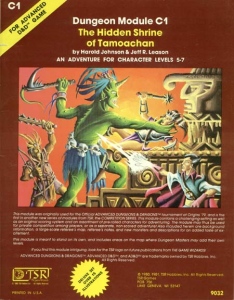 I was in the fourth grade when Shane introduced me to Dungeons & Dragons. I need not tell you that from the first character sheet I filled in, from the first time I rolled an eight-sided die, I was hooked. He ushered me right in to the deep end with the AD&D module The Hidden Shrine of Tamoachan. He was a benevolent DM, more interested in having fun with the game than in immediately wiping out the newly-minted characters of his young protégé. When I was lost, clueless, had no idea what was going on, he would genially step in with his own character, utilizing him as the most helpful NPC ever. (To this day, when I DM I run my own characters as NPCs — this is usually because I am only playing with one or two people and it rounds out the party, but also because I don't want to relinquish the fun of upping my characters to higher levels.) So, that was what Shane and I did the next couple years when he visited: played D&D. The rest, as they say, is history. A big part of my history, anyway.
I haven't seen Shane or spoken to him in over two decades now. Lost touch with him a long, long time ago in a galaxy far, far away, back in childhood: Neverland, Wonderland, Toyland, that land to which we can never return…
…well, except for vicariously, as I'm now discovering with a two-year-old and four-year-old of my own. My daughter just started getting into He-Man and She-Ra (courtesy of rebroadcasting by Qubo Night Owl — no, we don't let her stay up that late; she asks us to DVR them for her). My wife just picked up a box of He-Man figures for her, five bucks at a garage sale (smokin' deal). And the first thing I'm going to try to teach her when she is presented with them is that He-Man doesn't have to be He-Man; Skeletor doesn't have to be Skeletor. Not in her world of make believe. Skeletor could be a guy named Bob who is under a curse, and has to wear a skull mask to conceal his magically-transformed features. Maybe Strawberry Shortcake — who is, say, a fairy queen named Gaia — takes pity on him and invites him over to her tea party, where Bob really hits it off with Betty (formerly Cruella  de Vil). Or whatever she wants. It's her story. It's her imagination.
Thanks Shane.