The Next Generation comes to New Pulp
The Next Generation comes to New Pulp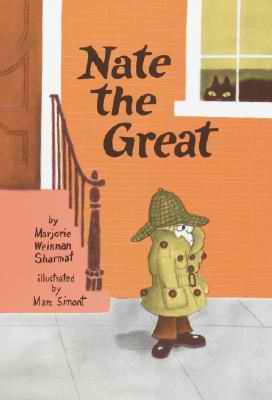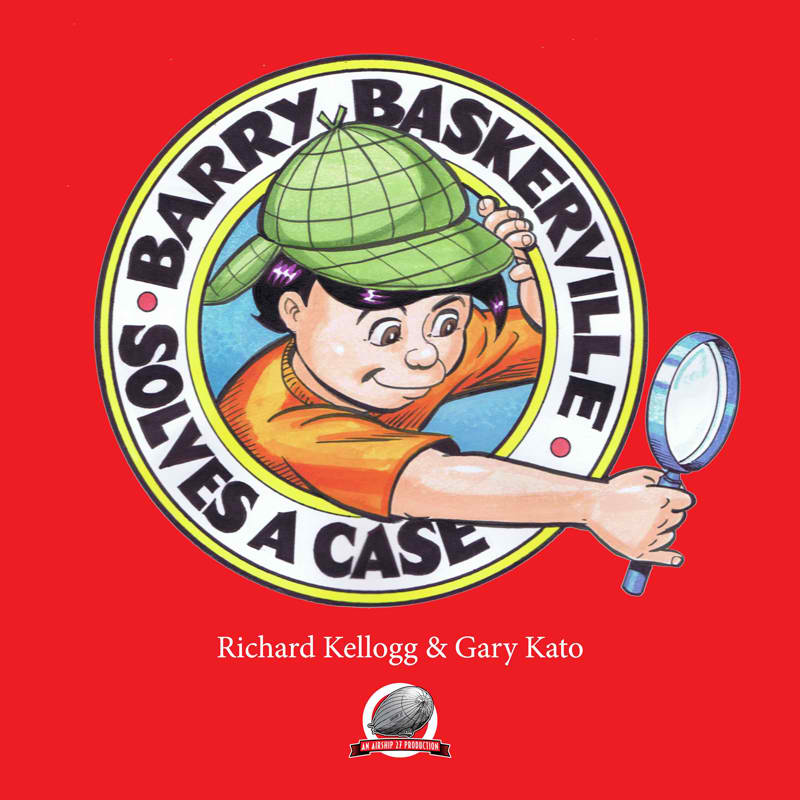 Attending Windy City Pulp and Paper Con in Chicago reinforced the fact that the burgeoning New Pulp world is quickly becoming as diverse as the classic originals. While most people tend to stereotype pulp as falling between sword & sorcery, hardboiled detective fiction, and costumed avengers, it was really far more broad in its appeal, encompassing everything from sci-fi to swashbucklers to boxing tales to romance to humor. A few months ago, I spotlighted Pro Se Presents for doing an excellent job of bringing diversity back to contemporary pulp fiction. This week's article looks at two new titles from New Pulp publishers and creators that push the boundaries in unexpected directions.
First off is the new title from Airship 27 from the team of Richard Kellogg and Gary Kato. It is no surprise to see Airship 27 continuing the tradition of giving readers new Sherlock Holmes titles to enjoy. What is surprising is that Kellogg and Kato's book, Barry Baskerville Solves a Case, is aimed squarely at children.
The title is equal parts Encyclopedia Brown, Nate the Great, and Sherlock Holmes. While my own kids are too big to enjoy this, I can't wait to read this title to my grandkids one day. Barry Baskerville is an absolute hoot for Holmes fans. Each page is dripping with wonderful references to the canon that parents will love (a bit like finding Easter eggs on a DVD). Best of all the many references never detract from the story to spoil the fun for kids who will want to be just like Barry.
What is Barry Baskerville like exactly? Well, this pint-sized deerstalker-wearing grade-schooler in the sleepy town of Watsonville loves to conduct strange scientific experiments to expand his knowledge of detection much to the consternation of his parents and his classmates, John, Mary, and especially Irene who seems to be sweet on him. Sound familiar?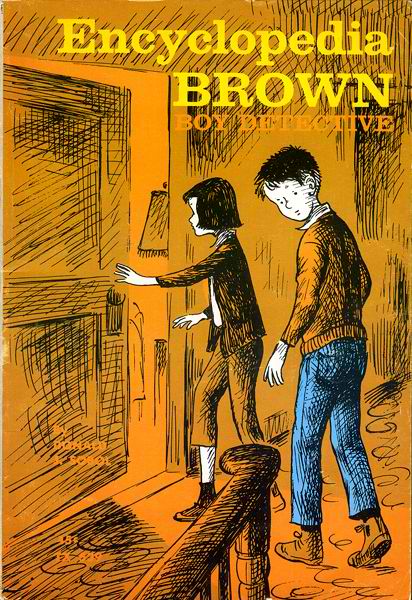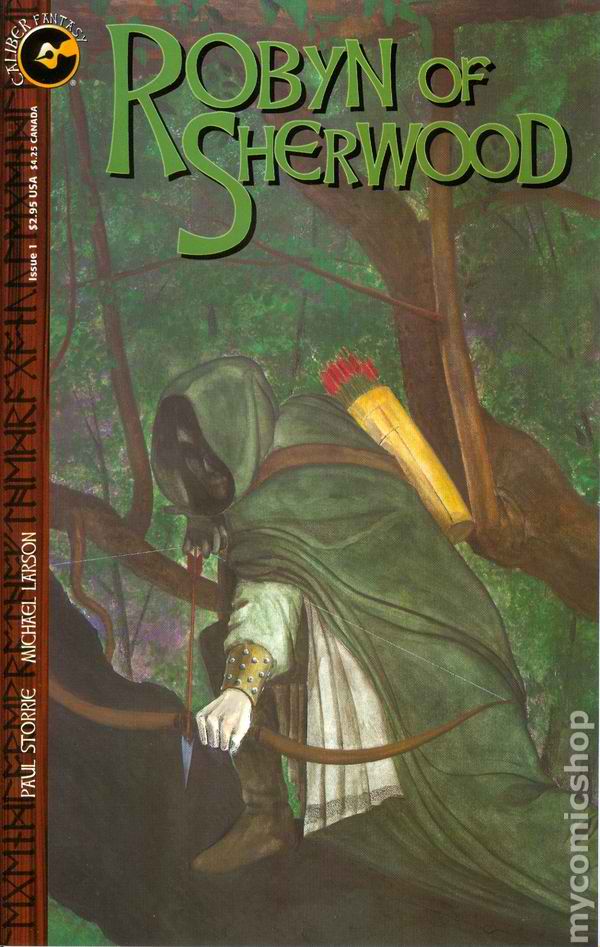 The plot of his first adventure sees Barry helping his otherwise helpless nostalgia collector father from being ripped off by the unscrupulous Dr. Roylott. That's right the villain of the piece is the namesake of the villain Holmes encountered in "The Adventure of the Speckled Band." Pulp parents will be amused to see that Barry's Dad spends his time collecting pulps, comics, and autographs of literary greats.
Kids will love having a child protagonist who is proud of his intelligence, follows the beat of his own drum, and is far too confident to allow others to pigeonhole him as a geek. Barry Baskerville Solves a Case is a delightful children's title that easily belongs in every library's children's section. This is a fun little mystery for all ages to appreciate with a positive message about reading, revering the past, applying knowledge, and not following the crowd. Here's hoping Kellogg and Kato continue this series. Barry Baskerville is far and away the best of that infamous family and I'd like to see him continue to rehabilitate the family name.
The other new title I discovered was Redbud Studios' Robyn of Sherwood. Redbud Studios is actually a comic publisher, but it is a kissing cousin of sorts to Airship 27 since the latter's art director, Rob Davis, is the publisher and Airship 27 editor/publisher Ron Fortier is the writer on many of Redbud Studios' publications. Normally, Redbud Studios' fare wouldn't fit in with my New Pulp reviews, but this particular graphic novel (a reprint of Caliber Comics' limited series with some new artwork and re-editing of the script) is of particular interest.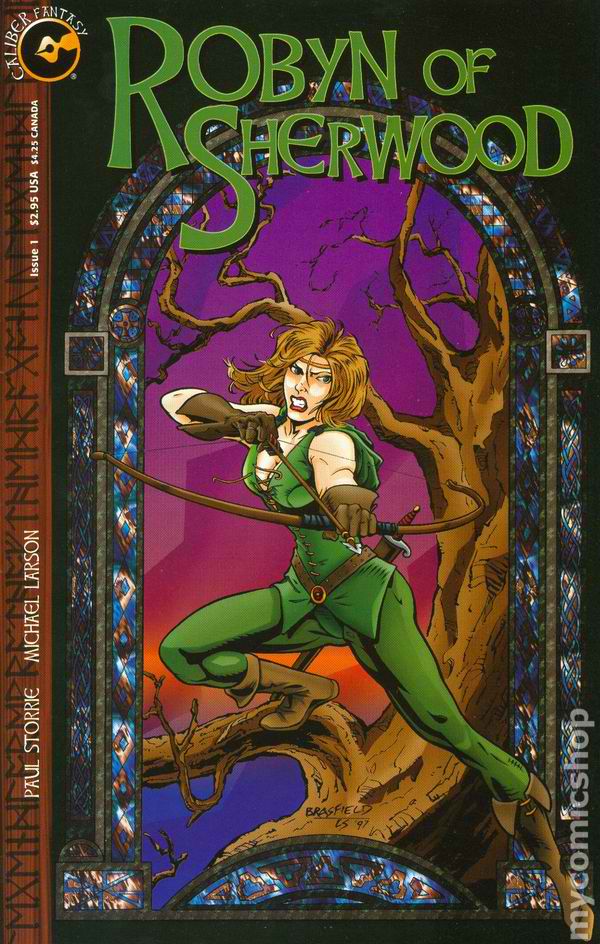 Robin Hood is one of those timeless properties that keeps bringing people back to the well seeking a reinvention. There has even been successful series of New Pulp novels by Ian Watson for Airship 27 featuring the character. My interest in this particular graphic novel was two-fold. First off, the artwork by Rob Davis and Michael Larson has a traditional feel to it that reminds me of the comic art I enjoyed as a kid in the years before anime did so much to reshape the medium. Second, the hero of Robyn of Sherwood is really a heroine. Robyn Hood is the daughter of the famed outlaw and Maid Marian. That was enough to pique my interest.
Happily, the script by Paul Storrie proves nothing but a delight with surprising fidelity to the original source material that only emphasizes how few adaptations before have bothered to adhere to the original folk legends. All in all, this rousing first adventure for the young lady outlaw of Sherwood Forest against the new Sheriff of Nottingham reminded me of the King Features' Robin Hood adaptation I loved as a kid (this may actually have been a Classics Illustrated reprint, more knowledgeable comics fans will likely know for certain). Check this graphic novel out to see what Paul Storrie has done with the property, particularly the surviving Merry Men and the increasingly mad King John. Here's hoping Redbud Studios has a winner on their hands as further adventures of Robyn and her Merry Men would be more than welcome.
---
William Patrick Maynard was authorized to continue Sax Rohmer's Fu Manchu thrillers beginning with The Terror of Fu Manchu (2009; Black Coat Press). It was followed by a sequel, The Destiny of Fu Manchu (2012; Black Coat Press). Next up is a collection of short stories featuring an original Edwardian detective, The Occult Case Book of Shankar Hardwicke and a hardboiled detective novel, Lawhead. To see additional articles by William, visit his blog at SetiSays.blogspot.com