Are We Looking for a Hero?
Are We Looking for a Hero?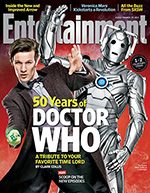 The other day, an issue of Entertainment Weekly arrived in my mailbox. Doctor Who was on the cover. Let me repeat that, because it's significant.  Entertainment Weekly had Doctor Who on the cover. What's next? Good Housekeeping? Vogue? The New York Times Literary Supplement?
And there's more. Out of the last fifteen covers, six featured genre work: the new Superman movie, Game of Thrones, World War Z, Oz the Great and Powerful, and Catching Fire. Counting the Doctor, that's seven genre covers out of sixteen. And each with a feature article, of course.
Where am I going with this? Well, I don't know about you, but I'm old enough to remember when it would have been UNHEARD OF for any genre work to appear on the cover or front page of any widely or popularly-read entertainment information vehicle. No newspapers, no magazines, no book or movie review sections. Zip. Zilch. Nada.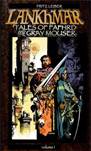 Maybe, you'll say, but these are heroes, and there's always been certain amount of popular interest in the "hero" – even the genre hero as evidenced by Flash Gordon and Buck Rogers. (And let's not forget that Westerns are a genre too.) But has it struck you that lately there's been an exponential increase in the popularity of the heroic figure?
It makes sense, at least to us, that there should be an ongoing discussion of the Fantasy and SF hero among readers and writers of same. Here in the pages of Black Gate itself we've seen, just in the last couple of weeks, Sarah Avery's two-part review of Jason M. Waltz's Writing the Fantasy Hero, (there's another installment today) and John O'Neill's announcement of the winners of the "Writing Fantasy Heroes Contest", who answered the question "What makes a true hero?"  Further afield, John R. Fultz had a recent post about the meaning of the word epic, and how the epic hero has evolved into modern times.
We all have our favourite heroes (mine are Fafhrd and the Grey Mouser), but now we see Comic Book, Fantasy, SF, and other genre heroes everywhere. On the best seller lists, breaking box office records. Making it chic to be a geek.

Do I have an explanation for this? Well, yes. But it's not really my explanation, and it involves another genre's hero. Back when I was an undergraduate and taking a course in the British Novel, my professor – completely a propos of nothing, as was his want – gave his theory on how it was that a fictional character like Sherlock Holmes became so popular that people wore mourning for him when Conan Doyle killed him off.
Here's the theory in a nutshell: In a time of great social stress, the world cried out for a hero. And the hero came. And the world was comforted.
Here's the explanation: When Holmes first appeared, Queen Victoria was coming to the end of her reign. She'd been queen for as long as most anyone could remember, and people were a little worried about the new guy. Society was changing, changing much too quickly for comfort, and there was an unaccountable feeling among people in general that things were getting out of hand – rising crime rates, rising violence, little wars all over – and they couldn't see why, or how to go about fixing it.
Any of this sound familiar? (When was the first Superman comic?)

Along came a genius who knew exactly what the problem was (Moriarity, the Napoleon of crime) and how to go about fixing it. And he could do it. Fix any problem presented to him. Every time. And we know that Holmes himself, while eccentric in the good old British sense, isn't dangerous or weird because he has as his best friend and companion the sensible everyman, John Watson.
Oh man, talk about your catharsis, your restoration of order! If Holmes had been around, he would have solved the murder of Hamlet's father in two shakes, and everyone could have lived. Well, okay, not Claudius, but you see where I'm going, right? People all over the world heaved sighs of relief, put down their Strand Magazines, and went quietly off to bed.
Holmes himself has never been out of the public eye. I can't begin to count the number of actors who have portrayed him – the only other characters who come close are the Musketeers, D'Artagnan, Porthos, Athos and Aramis. It's been said that there's been a definitive Holmes for every generation, with Basil Rathbone and Jeremy Brett being two stand-out examples.
The irony is that Holmes is more popular right now than he has been since his own time – and isn't that significant.  In addition to the Robert Downey Jr. films, we have not one, but two versions of the Holmes character, in the TV shows Elementary, and Sherlock – and I'm not even going to talk about House.
But let me return to the subject of my opening paragraph. Isn't there another fictional hero who has recently captured the popular imagination to an extraordinary extent?  Now that we have an idea of why that might be so, let's examine the evidence:
Highly intelligent. Apparently indestructible. Solves any problem presented to him with a combination of logic, deduction, action, and some useful tools. Plenty of acquaintance but only one real companion (at a time). Recreated for each new "generation."
Isn't the Doctor the real modern Holmes?
---
Violette Malan is the author of the Dhulyn and Parno series of sword and sorcery adventures, as well as the Mirror Lands series of primary world fantasies. As VM Escalada, she writes the soon-to-be released Halls of Law series. Visit her website www.violettemalan.com.