New Treasures: Without a Summer by Mary Robinette Kowal
New Treasures: Without a Summer by Mary Robinette Kowal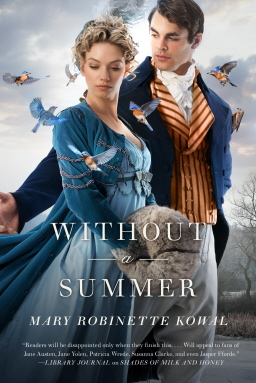 I attended the launch party for Mary Robinette Kowal's Without a Summer here in Chicago this week. I don't get to go to many launch parties — I  tend to eat all the hors d'oeuvres, and word gets around.
The venue was fabulous, the company and conversation were marvelous, and everyone pretended not to notice when I pocketed the leftover cheese. Best of all, my review copy of Without a Summer had just arrived, and Mary told me it was the first copy she had ever autographed. (She wrote a tidy "#1" and "Thanks for being my first" on the title page, which is the kind of thing which makes up for every party you've ever missed in your life.)
Without a Summer is the third novel in the Glamourist Histories, which began with the Nebula nominees Shades of Milk and Honey and Glamour in Glass.
Regency pair Jane and Vincent Ellsworth go to Long Parkmeade to spend time with Jane's family, but quickly turn restless. The year is unseasonably cold. No one wants to be outside and Mr. Ellsworth is concerned by the harvest, since a bad one may imperil Melody's dowry. And Melody has concerns of her own, given the inadequate selection of eligible bachelors. When Jane and Vincent receive a commission from a prominent family in London, they decide to take it, and take Melody with them. They hope the change of scenery will do her good and her marriage prospects — and mood — will be brighter in London.

Once there, talk is of nothing but the crop failures caused by the cold and increased unemployment of the coldmongers, which have provoked riots in several cities to the north. With each passing day, it's more difficult to avoid getting embroiled in the intrigue, none of which really helps Melody's chances for romance. It's not long before Jane and Vincent realize that in addition to getting Melody to the church on time, they must take on one small task: solving a crisis of international proportions.
Without a Summer was published by Tor Books on April 2, 2013. It is 364 pages in hardcover, priced at $24.99 ($11.99 for the digital edition). Josh Wimmer reviewed the first book in the series, Shades of Milk and Honey, here.