New Treasures: The Lives of Tao by Wesley Chu
New Treasures: The Lives of Tao by Wesley Chu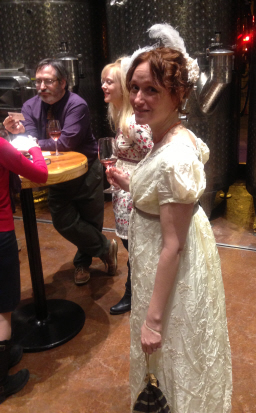 Back in April, I was invited to Mary Robinette Kowal's Without a Summer launch party here in Chicago, to celebrate the publication of the third volume of her Glamourist Histories fantasy series (which we covered right here at Black Gate on April 6).
It was a great chance to catch up with a lot of local writers, including Steven Silver, Holly McDowell, and Kelly Swails — and to meet Mary's husband Rob, who is a winemaker (seriously!) at City Winery Chicago.
I'd like to pause here to note that I don't get to write a sentence like that every day.
And, of course, it was a chance to see Mary, who was modeling one of her trademark empire style dresses. Brilliant writer, killer fashion sense, married to a winemaker… you can see why one just doesn't turn down an invitation from this woman.
About an hour after I arrived, Mary introduced me to Wesley Chu, another local Chicagoan and recently published author.
Now, this never gets old. I've been in publishing a long time now, and I meet aspiring writers, wannabee writers, and Gee-I've-got-a-great-idea-for-a-novel writers all the time. But introduce me to someone who's published an honest-to-God novel, and I turn into an instant fanboy.
I can't help it. At heart I'm still a reader, and I'm not so jaded by this industry that I can't appreciate that behind all the marketing spin, crushing deadlines, commercial pressures and compromises, is true magic — the fragile creative spark nurtured and nudged onto the stage by the diligent and the brave. I'm in awe of these people, and when I meet a new author I want to hear all about their creations.
I had a great talk with Wesley, and he was gracious enough to indulge me a little and tell me about his book. And the more I heard, the more fascinated I became.
His first novel is called The Lives of Tao, and it's not your typical alien-invasion, comic-book-influenced spy-versus-spy thriller. Far from it.
I bought the first copy I could get my hands on after our conversation, and even after spending some time with it, I'm not sure I could do the book justice with a plot description.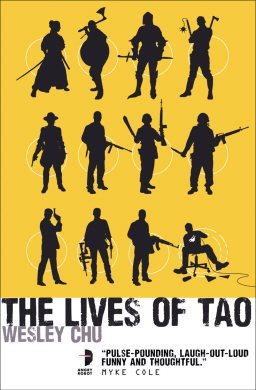 So for that I'll turn to my friend Myke Cole, author of Control Point, Fortress Frontier, and the short story "Naktong Flow" in BG 13:
Tipping his hat to both science fiction novels and comic books, Chu delivers a narrative that is at times pulse-pounding, laugh-out-loud funny and thoughtful. Part James Bond, part Superman, part Orphanage. There's something here for everyone.
Here's the back-cover blurb:
When out-of-shape IT technician Roen Tan woke up and started hearing voices in his head, he naturally assumed he was losing it.

He wasn't.

He now has a passenger in his brain – an ancient alien life-form called Tao, whose race crash-landed on Earth before the first fish crawled out of the oceans. Now split into two opposing factions – the peace-loving, but under-represented Prophus, and the savage, powerful Genjix – the aliens have been in a state of civil war for centuries. Both sides are searching for a way off-planet, and the Genjix will sacrifice the entire human race, if that's what it takes.

Meanwhile, Roen is having to train to be the ultimate secret agent. Like that's going to end up well…
The mad geniuses at Angry Robot have helpfully suggested that booksellers file The Lives of Tao under: Science Fiction, The Tug of War, I Was Genghis, Diary of a Slob, and Spy vs Spy. (I Was Genghis? Diary of a Slob? Seriously, I will never understand bookselling.)
Well, there you have it. Empire dresses, winemakers, Genghis Khan, and alien invasions. If you're having trouble putting it all together, don't sweat it. Just remember: Wesley Chu's The Lives of Tao, and Mary Robinette Kowal's  Without a Summer. The only two titles you need to make your summer fabulous. My work here is complete.
The Lives of Tao was published by Angry Robot on April 30, 2013. It is 460 pages, priced at $7.99 in paperback ($6.99 for the digital edition). Read more at the Angry Robot website.
See all of our recent New Treasures here.