SFWA Ugliness Spreads to Personal Attacks on Mary Robinette Kowal
SFWA Ugliness Spreads to Personal Attacks on Mary Robinette Kowal
Last week, we reported on the most recent public explosion in the ranks of the Science Fiction Writers of America, as Dave Truesdale, Robert Silverberg, Harlan Ellison, Barry N. Malzberg, Gene Wolfe, and others signed a petition calling for changes in the planned oversight to the SFWA Bulletin. That particular brouhaha seems to have blown over for the most part, at least partially defused by a statement from SFWA President Steven Gould, clarifying that "the editor of the Bulletin will not have to go to any selection or editorial review board to approve material."
But, like a needle lancing a boil, this latest controversy has brought an eruption of hurt feelings, long-festering grudges, and bitter commentary to the surface. Much of it has been in the public forums of SFF.Net (where Black Gate also has a newsgroup.) The most incendiary comments seem to be directed towards either the signers of the petition or towards the fan press who made an issue of it. But the sound of cannon fire seems to have been too much to resist for others, who are using the opportunity to level personal attacks at current and former SFWA officers.
One of the most egregious is Macmillan's associate director of contracts, Sean P. Fodera, who launched a personal attack on Mary Robinette Kowal, bizarrely criticizing her wardrobe and critiquing her for being "somewhat attractive." Fodera, a self-professed science fiction fan who apparently embraces ideas like teleporting wardrobes, magic wands, and giant space amoebas, seems to be completely unable to wrap his head around the concept of a woman who both likes to model and write science fiction. In fact, the whole thing seems to send him into a baffled rage.
For a long time, her website featured an array of photos of her in a diaphanous white outfit, posing on a beach. No metal bikinis or such, but they were not innocuous writer headshots either. One of them, with her recumbent on the sand with legs exposed, made her somewhat attractive. I also recall she's fond of wearing tight-fitting gowns and plunging necklines when she attends cons and award ceremonies.

I'll have to add "phony" to "incompetent" and "arrogant" in the mental tags I've assigned her.
Read Fodera's complete comments here and here.
Mary published a few of her modeling shots on her website here.
I've attended several conventions with Mary Robinette Kowal, and I've seen first hand the "tight-fitting gowns and plunging necklines" she wears. Here she is in the Black Gate booth at Dragon*con in 2010, in typical Mary attire: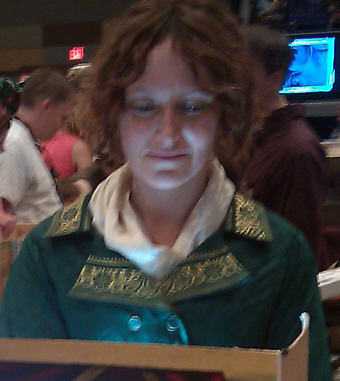 I took the picture at the top right at her launch party for Without a Summer here in Chicago last July. Silvia Moreno-Garcia offers a few more shots (and her own thoughts on the matter) here.
For the record, I find the fact that Mary Robinette Kowal — one of our most acclaimed new writers, winner of the Hugo Award, and a Nebula nominee for her first novel — should have to endure bizarre and blatantly sexist attacks on her wardrobe and appearance from fellow professionals in the industry (in the midst of protracted discussion on sexism in SFWA, no less) appalling.
The fact that a sizable number of professionals in the industry are currently expending energy trying to convince SFWA members that no such sexism exists and the sanctity of the SFWA Bulletin needs to be protected from the overreaching forces of political correctness, is frustrating and exasperating to a large portion of the membership. Aja Romano encapsulates the issue nicely in her Daily Dot article, "Apparently, these guys don't want women to write science fiction."
Mary addressed the matter succinctly on her blog today, in a post titled "Me, as a useful representative example."
My impulse is to tell you all that I'm fine and that this has no material affect on my life. And that is true. But I also know that I am a useful representative sample of the abuse that happens to other women.

I know that there are a ton of women who have received similar messages — and can we stop pretending that sexism is happening because it's SFWA? Sexism happens all the time. It's visible in SFWA because people are actively fighting against it.

Too many places, too many women, get this sort of unwelcome attention and commentary about what they were wearing but no one does anything. It's always, "Laugh about it" or "Just shrug it off," or "Ignore it and he'll go away."

You see how well that last is working?
Read Mary's complete comments here.