Josh Wimmer Reviews Shades of Milk and Honey
Josh Wimmer Reviews Shades of Milk and Honey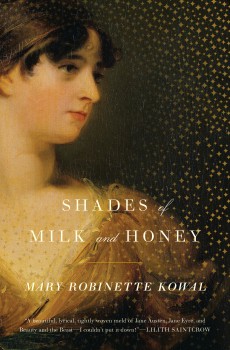 Shades of Milk and Honey
Mary Robinette Kowal
Tor (304 pp, $14.99, trade edition June 2011)
Reviewed by Josh Wimmer
If you have read anything about Shades of Milk and Honey, then you have seen it described as "Jane Austen, but with magic" or something along those lines. That is pretty much unavoidable. The novel, the first by Hugo nominee Mary Robinette Kowal, isn't just written in a style and voice resembling that of the British author's Regency-era romances, but also features sisters – one pretty, one smart – yearning for suitable suitors; a low-key but loving father who wants to see his girls married because he can't provide for them forever; a cavalcade of potential husbands of various sorts; and a lot of house parties. In other words, the book takes plenty from Pride and Prejudice and the rest of Austen's oeuvre.
What it adds is a mild but meaningful undercurrent of fantasy, and a slightly more modern-day message than might be found in the early-19th-century works that inspired it. Jane Ellsworth is unmarried and, at age 28, likely to remain that way. To recommend her, she has her wits, her emotional steadiness, and her skill with glamour – the magical crafting of visual and audible illusions, typically for aesthetic purposes. All fine qualities, but perhaps not enough to make up for her plain appearance (which Jane resolutely and admirably refuses to enhance with glamour).
When handsome bachelor Edmund Dunkirk begins paying more attention to Jane, seemingly appreciating that character and intelligence might be more desirable in a long-term partner than a mere pretty face, she is all at once startled and thrilled and reluctant to believe it – and conflicted, because he is the object of her younger sister Melody's desire. Kowal renders this inner turmoil with consummate skill: Jane wants to believe Dunkirk is interested, and she understands intellectually that she would make a good mate and that he might see that. But she is so used to being overlooked by men, and to subordinating her own wants to those of her more flaky sister, that she opts to err on the safe side, and tells herself she is imagining things, rather than risk being disappointed. On the other hand, she does deserve some happiness, doesn't she? But is it worth it? It's a very realistic internal roller coaster ride, all the more compelling because it's clear Jane isn't used to such a disruption of her usual poise.
It only gets more complicated when the rakish young Captain Livingston shows up and Melody sort of, but not entirely, aims her affections at him. He also might have an interest in Dunkirk's sister Elizabeth, though – and she has lately become Jane and Melody's friend. And then there's the inscrutable, moody artist Mr. Vincent. Jane just wants him to know how much she admires his work, but all she seems to do is offend him.
For even the casual Austen fan, it won't take long to figure out which one Jane ends up with. Oh, yes, she does end up with one – Jane is an independent spirit, but this is an Austen-style romance.
It's a match made on the most worthy terms, however. And the pleasure offered by Shades of Milk and Honey lies in seeing how it's arrived at. Kowal has created characters who are familiar but a step more nuanced than the Miss Bennets and Mr. Darcys of yore. And by throwing glamour into the mix, she has injected fresh color into an old form, augmenting a not-quite-traditional love story with commentary on the nature and significance of art and artifice.
---
A slightly different version of this review originally appeared in Black Gate magazine #15
Josh Wimmer is a writer and editor. He blogs about Hugo-winning novels for io9 and sporadically updates his own website at scribblescribblescribble.com. He lives in Madison, Wisconsin, with his wife, son, and cat.