New Treasures: Valour and Vanity by Mary Robinette Kowal
New Treasures: Valour and Vanity by Mary Robinette Kowal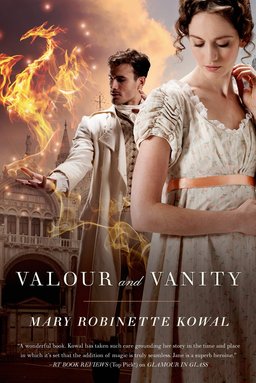 Back in February, I had the good fortune to attend Capricon 34 here in Chicago, where I heard Mary Robinette Kowal read from her upcoming novel Valour and Vanity. It was a delightful affair, not least because Mary gave us a highly entertaining peek behind the scenes at what it really takes to produce a period fantasy novel.
Valour and Vanity is the fourth book in the successful Glamourist Histories, following Shades of Milk and Honey (2010), Glamour in Glass (2012), and Without a Summer (2013). Mary's first collection, Scenting the Dark and Other Stories, was released by Subterranean Press in 2009.
Acclaimed fantasist Mary Robinette Kowal has enchanted many fans with her beloved novels featuring a Regency setting in which magic — known here as glamour — is real. In Valour and Vanity, master glamourists Jane and Vincent find themselves in the sort of a magical adventure that might result if Jane Austen wrote Ocean's Eleven.

After Melody's wedding, the Ellsworths and Vincents accompany the young couple on their tour of the continent. Jane and Vincent plan to separate from the party and travel to Murano to study with glassblowers there, but their ship is set upon by Barbary corsairs while en route. It is their good fortune that they are not enslaved, but they lose everything to the pirates and arrive in Murano destitute.

Jane and Vincent are helped by a kind local they meet en route, but Vincent is determined to become self-reliant and get their money back, and hatches a plan to do so. But when so many things are not what they seem, even the best laid plans conceal a few pitfalls. The ensuing adventure is a combination of the best parts of magical fantasy and heist novels, set against a glorious Regency backdrop.
Valour and Vanity was published on April 29 by Tor Books. It is 408 pages, priced at 25.99 in hardcover and $12.99 for the digital version. The jacket art is by Larry Rostant.