Future Treasures: Mary Robinette Kowal and Blake Hausladen Read from Upcoming Books at Capricon
Future Treasures: Mary Robinette Kowal and Blake Hausladen Read from Upcoming Books at Capricon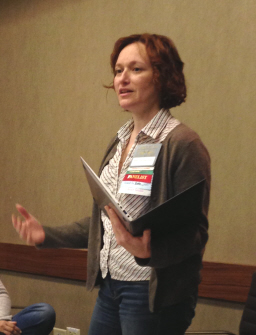 There are lots of reasons to attend conventions. To meet your favorite authors, to network with fellow writers and editors, to browse in the Dealer's Room (yeah!), to check out the Art Show, to attend entertaining panels.
But the thing I find most delightful these days is author readings. There's something about hearing beloved characters brought to life right in front of you by the author herself that's truly magical. In just the past few years, I've been lucky enough to attend readings by Peter S. Beagle, Gene Wolfe, Neil Gaiman, Patty Templeton, C.S.E. Cooney, Martha Wells, Fredric Durbin, and Steven Erikson, among many others.
It's also a great way to discover new writers. I make it a priority to attend as many readings as I can by writers I'm not familiar with. And let me tell you, that's really paid off — I've discovered some of my favorite new writers because I had an empty 30 minute slot between the Firefly panel and the midnight showing of Destroy All Monsters. Over the decades, that's included people like Charles Saunders, N. K. Jemisin, Mark Sumner, Bradley Beaulieu, Alex Bledsoe, and — believe it or not — George R.R. Martin.
Take my advice: if you find yourself in a place where professional storytellers are willing to stand before you and entertain you, take advantage of it. You won't be sorry. You can attend that anime panel next year.
A few weeks ago, I was at Capricon 34 in Wheeling, Illinois, with a few other Black Gate staffers, including Patty Templeton and Steven Silver. We didn't have a booth — we haven't bothered with one since the print version of the magazine died in 2011 — and I'm still getting used to being able to wander without being tied to the Dealer's Room. I didn't get to attend everything I wanted to — I missed Wesley Chu's Saturday morning reading because I was mailing back issue orders at the post office — but I did catch some terrific panels. And, not too surprisingly, the most delightful and entertaining events at the convention were three readings, from Hugo-Award Winning author Mary Robinette Kowal, Strange Horizons editor Mary Anne Mohanraj, and self-published writer Blake Hausladen.
[Click on any of the images in this article for larger versions.]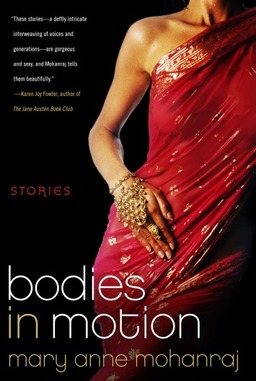 Mary and Mary Anne's reading were part of a joint presentation titled 2 Stories and Their Histories, on Sunday at 11:30 am. Here's the description from the program book:
Mary Anne Mohanraj and Mary Robinette Kowal will each read one of their short stories. Following the stories they will discuss the research they had to do in order to bring the stories from their fevered imaginations to the page for your enjoyment and edification.
That was certainly enough for me to circle it in the program book and make sure we got there in plenty of time to get a good seat.
Mary Anne Mohanraj opened by reading from Bodies in Motion, her novel-in-stories that follows two generations of a pair of families living in America and Sri Lanka, and then explaining her own harrowing Sri Lankan family history that inspired events in her novel.
I was quite intrigued by Mary Anne's reading, even though it was more historical fiction than fantasy. It was also, admittedly, part of a large narrative that was unfamiliar to me.
Bodies in Motion was published by Harper Perennial in June 2006 and I'll certainly be tracking down a copy.
But it was Mary's reading that really entranced me. She read from the draft of her upcoming novel Valour and Vanity, the fourth in her acclaimed Glamourist Histories series, and it was a real delight to hear her bring her characters Jane and Vincent to life.
Valour and Vanity is a fantasy caper novel, which Mary described as "If Jane Austin wrote Ocean's Eleven." This volume picks up directly after Melody's wedding at the end of Without a Summer, with the Ellsworths and Vincents traveling with the young couple as they begin their tour of the continent. The novel draws on the historical details of Lord Byron's trip to Venice and pirate activity in the Gulf of Venice, including the notorious Barbary corsairs.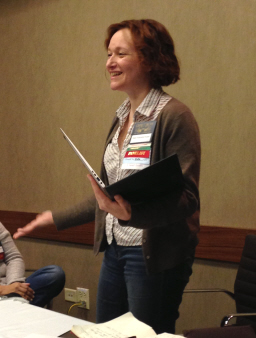 But the truly fascinating aspects came from Mary's research on language and what she called the craft of wordplay for historical novels.
"Language reflects culture," she said. "For example, I wanted to use the phrase 'out cold.' But I couldn't. 'Out cold' is 20th century slang; it comes from refrigeration."
In a continuing effort to make certain the language used in her books is as accurate as possible, she created a Jane Austen dictionary. "I did lots and lots of reading, so I had a common knowledge base," she admitted.
She made heavy use of the Oxford historical concordance, which lists words in the order in which they appeared in the English language ("Soooo sexy," Mary noted.)
Mary read passages from her text before and after she'd run them through her language concordance to eliminate modern words and phrases, and the difference it made was remarkable.
There were lots of other intriguing things about Valour and Vanity, in addition to just the careful attention to the text, not the least of which was the appearance of a certain Dr. Poladora whom, Mary claimed enigmatically, "bears a striking resemblance to David Tennant."
Valour and Vanity will be released by Tor Books on April 29, 2014. The first three books in the series are Shades of Milk and Honey (2010), Glamour in Glass (2012), and Without a Summer (2013).
Here's the book description: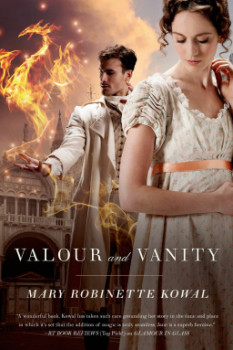 Mary Robinette Kowal's Valour and Vanity is a Regency version of a heist movie with a healthy dose of magic sprinkled in.

After Melody's wedding, the Ellsworths and Vincents accompany the young couple on the their tour of the continent. Jane and Vincent plan to separate from the party and travel to Murano to study with glassblowers there, but their ship is set upon by Barbary corsairs while en route. It is their good fortune that they are not enslaved, but they lose everything to the pirates and arrive in Murano destitute.

Fortunately, one of the gentlemen from the ship is a local banker and arranges for a line of credit and a place to live. Relieved, the Vincents begin the work for which they have come to Italy.

All is proceeding apace until a solicitor arrives at their house and charges them with illegal trespass. Jane and Vincent produce letters from their banking friend, but they are all forgeries, and worse, he has used their forged letters to clean out their funds in England. Now, Jane and Vincent owe money to a number of people in town and are forbidden from travel. They manage to find some small work, but it is obvious to both of them that this path will not maintain them for long.

Instead, Vincent hatches a reckless plan to get their money back. The ensuing adventure is a glorious envisioning of all the best parts of heist narratives, but in a Regency setting with magic.
Of course, the convention wouldn't have been a complete success without at least one major new discovery. For me, that occurred Saturday afternoon in the Birch room, when Patty and I attended Blake Hausladen's reading.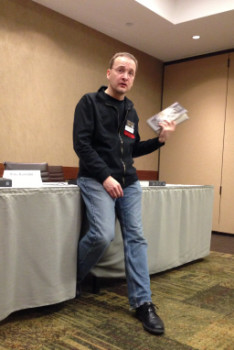 Blake Hausladen was a complete unknown to me when I stepped into the room. He's a Chicago writer who attended Ripon College, and who self-published his first book, Ghosts in the Yew, through his own publishing company Rook Creek Books in 2011.
The novel follows four characters (all in first-person POV) who are banished beyond the edge of the map, into gnarled forests and a land of ancient magic. Ghosts in the Yew is the first book in the Vesteal series.
Ghosts in the Yew is a handsome volume and — after listening to Blake read from the unpublished sequel, Native Silver — I was delighted to buy a copy.
Blake was an entertaining and forceful reader, but just as fascinating (to me, anyway) as his writing were the details of his publishing exploits. Blake captivated the crowd with the tale of his adventures in self-publishing, and was happy to answer questions from aspiring self-published authors in the crowd (and let's be realistic…. at any SF convention, that's typically half the audience.)
Blake produced print-on-demand hardcover editions of his first novel (an almost unheard-of extravagance) and sold them himself for $30 — chiefly, he mentioned, at conventions and readings. He also had trade paperback editions available for just $14.
He'd already sold over 1,000 copies of his first book, a truly amazing number for a self-published author. The success of Ghosts in the Yew encouraged Blake to keep writing and he concluded a successful Kickstarter campaign to fund the second volume on February 2.
As hard-working as he is — and as clear an inspiration to self-published authors everywhere  — Blake deserves to reach a wider audience. I hope you'll give his books a chance. I only had the opportunity to enjoy excerpts from two short chapters, but what I heard was packed with action, excitement, a well-realized world, and believable characters.
Ghosts in the Yew was published by Rook Creek Books on August 1, 2011. It is 610 pages, priced at $30 in hardcover and $14 in trade paperback.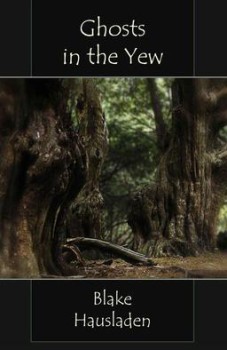 You can read more — and listen to two audio samples — here.
Here's the book description:
A novel of violent magic, intrigue, and statecraft, Ghosts in the Yew is the story of four who are banished beyond the edge of the map to a land of gnarled forests, ancient magic, and the site of a terrible murder. Their struggles to survive will put them at odds with their families, their nation, and the very powers that shaped the world.

The dark forest hid them from their destroyers. The matriarch of the forest wept a century at their murder. The priests rewrote the songs and rhymes until the world forgot them and the conquerors abandoned their watch. But then it happened that the Zoviyan Empire — bloated by its centuries of glut — sent the last thing it should have into the trees. Ghosts forget nothing, and when the blood of their enemy walked beneath them, they woke, their revenge at hand.
Native Silver picks up the tale of Leger, Barok, Geart, and Dia, who find they must face more than the wrath of an awakening empire and the servants of a dark power. The hardcover release date via Amazon and other online retailers is May 3rd.
Read an excerpt from Native Silver here.
See all of our Future Treasures articles here.