New Treasures: Blood's Pride by Evie Manieri
New Treasures: Blood's Pride by Evie Manieri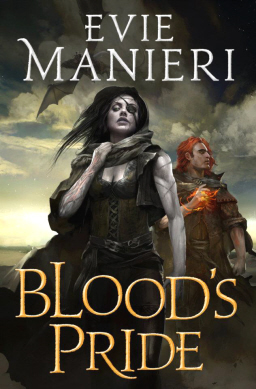 I'm still reading the books I picked up over the weekend — including Michael Shea's Nifft the Lean, and Karen Heuler's fascinating collection The Inner City. Heck, I haven't even finished the digital version of The Mad Scientist's Guide to World Domination I bought weeks ago. I suck.
Fortunately, sucking as a reader isn't a crime (yet). And besides, it's hard to stay focused when so many delicious new titles cross my desk every day. Titles like Evie Manieri's intriguing first novel Blood's Pride, which promises a tale of vengeance, conquest & rebellion, and long-buried secrets.
Rising from their sea-torn ships like vengeful, pale phantoms, the Norlanders laid waste to the Shadar under cover of darkness. They forced the once-peaceful fisher folk into slavery and forged an alliance with their former trading partners, the desert-dwelling Nomas tribe, cutting off any hope of salvation.

Now, two decades after the invasion, a rebellion gathers strength in the dark corridors of the city. A small faction of Shadari have hired the Mongrel, an infamous mercenary, to aid their fledgling uprising — but with her own shadowy ties to the region, she is a frighteningly volatile ally. Has she really come to lead a revolution, or for a more sinister purpose all her own?
The eye-catching cover art is by Kekai Kotaki — click on the image for a bigger version. Evie Manieri is a graduate of Wesleyan University with a double major in medieval history and theater — a promising mix for a career as a fantasy novelist. She lives in New York. According to her website bio this is the first novel in the Shattered Kingdoms trilogy; the next installment, Fortune's Blight, is due out in the Fall.
Blood's Pride was published on February 19, 2013 by Tor Books. It is 516 pages in hardcover, priced at $24.99.