Vintage Treasures: Alfred Hitchcock's Monster Museum
Vintage Treasures: Alfred Hitchcock's Monster Museum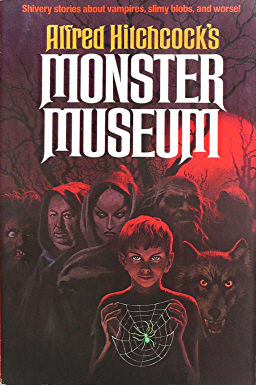 Last month, my son came home from school and began poking through our library. "I have to read a short story collection for Lit block," he explained.
I think "Lit block" maybe means English class. I'm not going to ask, I already get enough grief for not understanding what kids today are talking about. After a few minutes, Drew gave up. "I'll check the school library tomorrow," he said. Please. This is what eBay is for. And sure enough, after a short search, I found a collection he found suitably intriguing. With story titles like "Slime" and "Shadow, Shadow, on the Wall," how could he not? There was a copy in great shape for just $2.75, and very soon it was ours.
Of course, I ended up being even more interested than Drew. Alfred Hitchcock's Monster Museum was one of roughly a dozen anthologies published under Hitchcock's name and ghost-edited by Robert Arthur, including 12 Stories for Late at Night, Scream Along with Me, and Stories That Scared Even Me. This one contains a terrific mix of pulp fiction from 1929 – 1954, from Murray Leinster (Will F Jenkins), Manly Wade Wellman, Theodore Sturgeon, and many others. Here's the complete TOC:
A Variety of Monsters — Introduction by Alfred Hitchcock
"Slime" — Joseph Payne Brennan (Weird Tales, March 1953)
"The King of the Cats" — Stephen Vincent Benét (Harper's Bazaar, Feb 1929)
"The Man Who Sold Rope to the Gnoles" — Idris Seabright (F&SF, Oct 1951)
"Henry Martindale, Great Dane" — Miriam Allen deFord (Beyond Fantasy Fiction, Mar 1954)
"Shadow, Shadow, on the Wall" — Theodore Sturgeon (Imagination, Feb 1951)
"Doomsday Deferred" — Will F. Jenkins (The Saturday Evening Post, Sep 24 1949)
"The Young One" — Jerome Bixby (Fantastic, Apr 1954)
"The Desrick on Yandro" — Manly Wade Wellman (F&SF, Jun 1952)
"The Wheelbarrow Boy" — Richard Parker (Lilliput, Oct 1950)
"Homecoming" — Ray Bradbury (Mademoiselle, Oct 1946)
The paperback is abridged from the original 1965 hardcover, which also included "The Day of the Dragon" by Guy Endore, "The Microscopic Giants" by Paul Ernst, and Jerome Bixby's "The Young One." I prefer the trade paperback however, mostly because of the gorgeous and moody cover (click on the image at right for a bigger version).
Alfred Hitchcock's Monster Museum was published by Random House in trade paperback in 1982; the original cover price was $2.50 for 213 pages.