November Brings the Final Volume of Tad Williams' Shadowmarch Series
November Brings the Final Volume of Tad Williams' Shadowmarch Series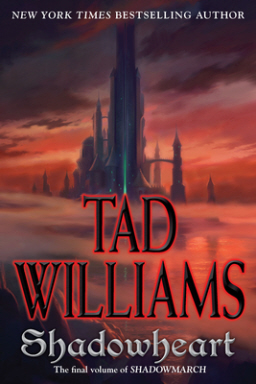 Those of you who wait until a series is completed before picking up the first volume (especially if, like me, you wait until it arrives in paperback) will be glad to hear that DAW Books will be releasing Tad Williams's Shadowheart, the fourth and final volume in his well-reviewed epic fantasy series Shadowmarch, in mass market paperback on November 6th:
Southmarch Castle is about to be caught between two implacable enemies, the ancient, immortal Qar and the insane god-king, the Autarch of Xis. Meanwhile, its two young defenders, Princess Briony and Prince Barrick, are both trapped far away from home and fighting for their lives.

And now, something is awakening underneath Southmarch Castle, something powerful and terrible that the world has not seen for thousands of years. Can Barrick and Briony, along with a tiny handful of allies, ordinary and extraordinary, find a way to save their world and prevent the rise of a terrible new age — an age of unending darkness?
I bought Williams's first novel, the cat fantasy Tailchaser's Song, in 1985, and have followed his career with interest ever since. His massive Memory, Sorrow, and Thorn (starting with The Dragonbone Chair in 1988) catapulted him to the front ranks of epic fantasy writers, and the 4-volume Otherland series, beginning with City of Golden Shadow (1996) and ending with Sea of Silver Light (2001), proved he was as proficient with science fantasy.
The first novel in his latest series, Shadowmarch, was published in hardcover in 2004. Just as with Otherland, Shadowmarch was initially announced as a trilogy, but the third book became so large and unwieldy it was broken into two volumes. It's been a long wait for the fourth and final installment, but epic fantasy fans are nothing if not patient.
Shadowheart will be released by DAW Books on November 6. It is 840 pages for $8.99 in paperback; the digital version is $9.99,