Goth Chick News: Fear, Nudity and More Seasonal Fun…
Goth Chick News: Fear, Nudity and More Seasonal Fun…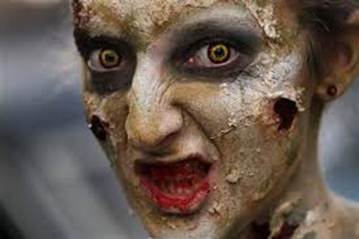 Now that the seasonal Halloween fun is in full swing and the Goth Chick News interns have gone mad on Red Bull and candy corn, it's down to me to sample the best-of-the-best of the "holiday" offerings and hand them over to you to fill up your two remaining October weekends.
Oh, and if you are under 16, I'm going to need to ask you to leave. All of the events I'm about to describe have a non-negotiable age limit.
The last thing we want is lawsuits to claim reimbursement for PTSD therapy sessions.
Youngsters firmly in front of Sesame Street? Pencils ready?
Then let's break this down by location…
Chicago Metro Area:
Fear City Apocalypse / Hades: About a month ago, Black Gate photog Chris Z and I had the pleasure of getting a "behind the screams" look at the double scream-fest of Fear City Apocalypse and Hades in Morton Grove, IL.
It was impressive and slightly disturbing in broad daylight…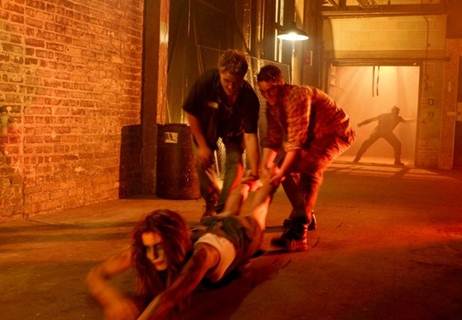 Then on October 5th we attended the Bloody Red Carpet event at this premier haunt with all most of the paint dry and the attraction fully manned with a staff of first-class scare-professionals. Even more exciting was that we finally got to see behind the gore-streaked veil and experience Hades – a part of the attraction we only got a glimpse of previously and only after signing a non-disclosure agreement in Chris Z's blood (I am the boss after all…).
Back in September, we were super impressed with the realism of the Fear City sets constructed by Chuck Grendys (proprietor of Big City Sets) and his partner in… um… gore, Emmy-award-winner Jim Lichon, when we saw them in on a sunny September morning.
But add darkness, black light, sound, smells and a cast made up of a hideous combo of professional actors and armature haunters and even hardened Halloween critics like Chris Z and I might have clutched each other for protection once or twice.
Okay, I was shrieking like an angsty lip-nibbler at the opening night of Twilight… but who's keeping track.
Hades took haunted attractions to a new level by submerging us in complete darkness and then walking us in circles to come upon ever-increasingly horrific scenes of Hell until we felt sure Dante must be clutching our coats from the back.
Made me want to repent… almost.
Both attractions are enclosed in a ridiculously huge warehouse, so no worries about waiting outside in the cold and rain. Fear City and Hades are not for the faint of heart and even the humor of the "front of house" actors is on the "adult" side.
The sign at the beginning of the line says it all "If you're easily offended – leave."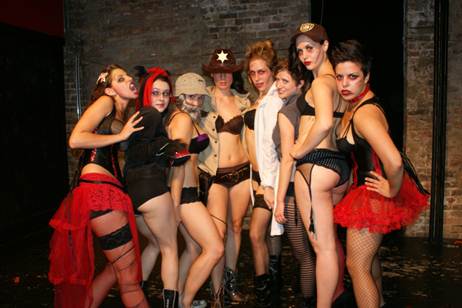 And bringing along a change of knickers isn't a bad idea either…
Boobs of the Dead (Chicago and New Orleans, LA): I met the talented ladies of Gorilla Tango Burlesque at this year's Chicago Comic and Entertainment Expo (C2E2 for us cool kids) and I had to admit – this was something I'd never witnessed before.
Nerds, (and I use that term with all respect) lined up at least six deep in their "I (heart) Dr. Who" tee shirts waiting to nab the autograph from their favorite burlesque dancer.
This alone is not an astounding phenomenon. Nerds and nudity go together like gamers and Lara Croft.
The unique thing here was that the girls were voluntarily embracing the nerds. Their burlesque shows had names like "A Nude Hope: A Star Wars Burlesque" and "Fellowship of the Boobs: A Lord of the Rings, World of Warcraft, Dungeons & Dragons, Role Playing Game Burlesque."
I mean, who could blame the nerds after all? Finally, nude girls who really took an interest in their hobbies.
Needless to say, I was intrigued and promised these humanitarian ladies that I'd come to see their show should they ever touch on a goth-like topic.
Then sure enough, come October I receive a much-coveted invitation to Boobs of the Dead.
Are you kidding me? Of course I went.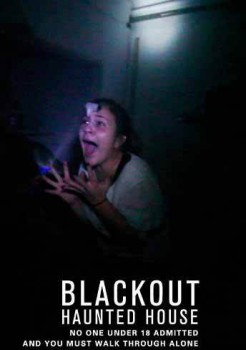 Whoever writes the scripts for Gorilla Tango are comic geniuses in the fine tradition of Second City. If Night of the Living Dead met Flashdance, shared a bottle of wine, then ended up doing the nasty – the result would be Boobs of the Dead. Add to this a mixed rowdy midnight crowd fueled with a few craft brews and you have just about the most Halloween fun you can have with (a small amount) of your clothes on.
Everywhere Else:
House of Shock (New Orleans) — Ask any Halloween aficionado what's the edgiest haunted house in the South and chances are they'll say The House of Shock. For 20 years, the hair-raising labyrinth has enjoyed notoriety based on its gut-flopping gruesomeness, no-holds-barred religious irreverence, in-your-face theatricality and hellish pyrotechnics. There was a time when concerned citizens called for its closure because of its pseudo-satanic imagery and while there is technically no minimum age to enter the attraction, visitors should note that the experience features theatrical crucifixion, mutilation, strangulation, blood-letting, demon worship, and other necrotic nightmares.
Blackout Haunted House (New York and Los Angeles – 18 years and older only): I became aware of this torture-fest at the Haunted Attractions show back in February, where their display was a live actress laid out next to a television playing a loop of cattle mutilation.
Now that's a trade-show attention-getter…
Apparently, Blackout changes locations every year, so you must be in with the in-crowd on Facebook to figure out where to report for your mind-f***.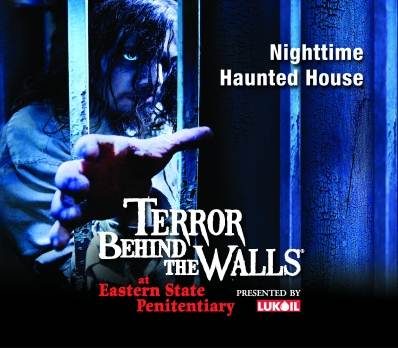 After signing a legal waiver about 5 pages long, you walk through in complete darkness and entirely alone. If past years are any indication, along the way you'll be handcuffed, groped, berated, and nearly drowned. You're given a "safe word" to use if you've had enough, but good luck saying it with wet underwear stuffed in your mouth.
If you're interested in experiencing military interrogation techniques, you're not alone as the rabid fan base grows exponentially every year. Click HERE for a walk through description and if you decide to try it, please email me.
Eastern State Penitentiary (Philadelphia, PA) Housed in a 176-year-old former prison, the looming stone behemoth that is Eastern State Penitentiary is frightening enough on its own. But some brilliant minds have infused it with additional horror by creating "Terror Behind the Walls," a disturbing haunted attraction that may leave you in a fetal position. The 11-acre complex hosts 5 haunted houses, including the newest, "Night Watch," which visitors explore on their own, in the dark with only flashlights to guide them.
Fright Dome (Las Vegas, NV) Boasting a appearance by the Plymouth Fury from Christine this October, it was voted one of the Top 5 scariest haunted attractions in the nation by Travel Channel. Encompassing five acres of fog-filled, cobweb-covered and blood-spattered attractions, Fright Dome is much more than your average haunted house. In celebration of its 10th anniversary, the creators have teamed up with the godfather of zombie films, George A. Romero, to theme one of its experiences.
Ambulances are on hand just in case…
Still need suggestions for an attraction near you? Turn to our friends at HauntWorld.Com and search for the best place to get the snot scared out of you in your neck of the woods.
What are you doing for Halloween this year? Have you experienced one of our premier haunts? Post a comment or drop a line to sue@blackgate.com.