Jolly Blackburn's Knights of the Dinner Table #191 Shipping Next Week
Jolly Blackburn's Knights of the Dinner Table #191 Shipping Next Week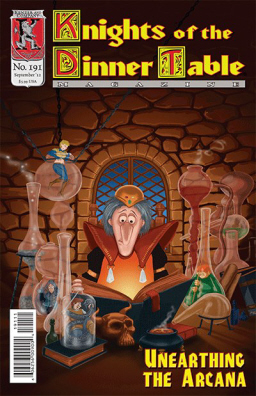 Time to remind all you people that you should be reading Knights of the Dinner Table.
Why? Because it's one of the best comics on the market. And for gamers it's a lot more than that — it's one of the finest magazines out there, packed with articles, reviews, and ads for the best new games.
Knights of the Dinner Table follows the misadventures of a group of misfits from Muncie, Indiana, whose love of gaming routinely trumps normal social conventions, and occasionally even their sense of self preservation. If you're a Black Gate reader you're already familiar with the Knights: the Java Joint strip in the back of every issue draws from the same cast of characters. Knights of the Dinner Table: The Java Joint, collecting the complete Black Gate strips, is now available in print and PDF.
You can try KODT for free online with the weekly Knights of the Dinner Table web comic. The current "Celebrity Hack" strip, featuring Seinfeld characters playing Hackmaster, is more than worth the trip.
In addition to a great cover by artist George Vrbanic, spoofing the original Unearthed Arcana art by Jeff Easley, issue 191 features 8 complete comic strips, plus feature articles including "Siftings of a Hoarder's Lair: An inventory of things found in a Kobold's Lair," by Barbara Blackburn. This issue's GameMaster's Workshop looks at Bait and Tackle: Adventure Hooks on the Fly, Denizens of Tellene: Shazahn Ghanim, and Gaming the Movies covers the film Outpost.
All that plus regular columns Tales from the Table, Web Scryer: the Best of the RPG Web, and reviews of Masque of the Red Death, The Drifter's Escape, The Tempus novels, Ugg-Tect, Flapjacks & Sasquatches, and Decktet. See this complete list of contents here
Knights of the Dinner Table is published monthly by Kenzer & Company. Issues are 64 pages, black & white, and priced at $5.99. It gets my highest recommendation.