You'll Never See it in Galaxy
You'll Never See it in Galaxy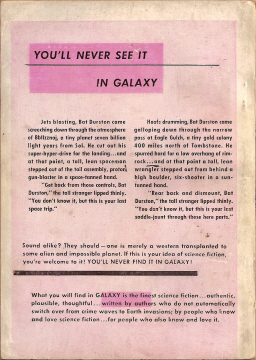 In my last post, Discovering Galaxy Science Fiction, I shared my excitement in discovering Galaxy magazine and getting my hands on some issues. While I was still admiring my recent collection, my wife surprised me with the first twelve issues of Galaxy Science Fiction!
Galaxy's first issue was October, 1950. Upon the back cover are the words, "You'll Never See it in Galaxy." Below that header, two short narratives appear about Bat Durston – one set in space, one set in the old west. Other than the setting and descriptions, the paragraphs are nearly identical. Following that is this great statement: "If this is your idea of science fiction, you're welcome to it!" [Click on the image at right for the complete text].
Editor H.L. Gold writes in the opening letter that science fiction is finally coming of age and that media sources are treating science fiction intelligently. Gold writes that Galaxy "proposes to carry the maturity of this type of literature into the science fiction magazine field, where it is now, unfortunately, somewhat hard to find." With stories akin to Bat Durston in heavy supply, that's no surprise.
In addition to Galaxy's content, Gold writes that even their cover art
is proof of [Galaxy's] break with the amateur and/or shoddy tradition… We never were convinced, in any case, of the actual commercial appeal of naked maidens, prognathous youths in winter underwear… and monsters that can exist only on the nutrients found in India ink and Bristol board.
He describes cover artist David Stone as "weary of tearing covers off magazines to avoid embarrassment."
Clearly, Galaxy's founders found a dearth in excellent science fiction, presented in a professional format. I admire them for their boldness, to proclaim what's needed and to publish it. I look back on the golden age of science fiction with renewed interest; editors like Gold forged that age through their publishing and promotional endeavors.
As to what lies within the pages of these magazines, I can only grin, for I've just finished reading one of the issues. In a future article, I'll reveal what I've read and perhaps entice some of you to join me. Here's a spoiler: you won't find any tales about Bat Durston.