2012 Hugo Award Winners Announced
2012 Hugo Award Winners Announced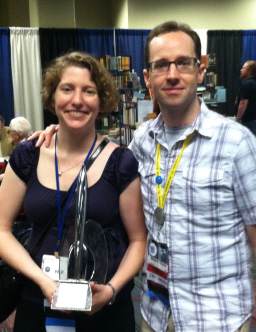 If it's seemed a little quiet here on the Black Gate blog for the past five days, it's because many of our staff and bloggers — including John O'Neill, Howard Andrew Jones, Rich Horton, Andrew Zimmerman Jones, Joe Bonadonna, and David C. Smith — have been at Chicon 7, the World Science Fiction Convention here in Chicago, over the Labor Day weekend.
It was a 5-day party and convention, culminating in the Hugo Awards ceremony Sunday night. We'll have more complete con reports right here in the next few days, but for now here's the big news: The 2012 Hugo Award winners. Congratulations to all!
BEST NOVEL
Among Others, Jo Walton (Tor)
BEST NOVELLA
''The Man Who Bridged the Mist,'' Kij Johnson (Asimov's, Oct-Nov 2011)
BEST NOVELETTE
''Six Months, Three Days,'' Charlie Jane Anders (Tor.com, June 2011)
BEST SHORT STORY
''The Paper Menagerie,'' Ken Liu (F&SF, March-April 2011)
BEST RELATED WORK
The Encyclopedia of Science Fiction, Third Edition, John Clute, David Langford, Peter Nicholls & Graham Sleight, eds. (Gollancz)
BEST GRAPHIC STORY
Digger, Ursula Vernon (www.diggercomic.com)
BEST DRAMATIC PRESENTATION – LONG
Game of Thrones: Season 1
BEST DRAMATIC PRESENTATION – SHORT
Doctor Who: ''The Doctor's Wife''
BEST PROFESSIONAL EDITOR LONG FORM
BEST PROFESSIONAL EDITOR SHORT FORM
BEST PROFESSIONAL ARTIST
BEST SEMIPROZINE
BEST FANZINE
BEST FANCAST
BEST FAN WRITER
BEST FAN ARTIST
JOHN W. CAMPBELL AWARD FOR BEST NEW WRITER
The complete list of winners can be found here.