Singularity & Co. use Successful Kickstarter to Rescue Out-of-Print SF & Fantasy
Singularity & Co. use Successful Kickstarter to Rescue Out-of-Print SF & Fantasy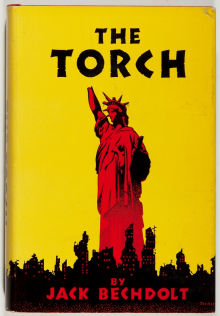 The ever-vigilant Jason Waltz has called our attention to this article on Singularity & Co., who are rescuing extremely rare SF and fantasy titles and bringing them back into print as e-books.
It began with a Kickstarter campaign by Ash Kalb, Cici James, Jamil V Moen, and Kaila Hale-Stern, which raised $52,276 (350 percent of their $15,000 goal). The campaign ended on April 2 and the team wasted no time setting their dream in motion. Each month they have carefully selected one out-of-print science fiction novel, tracked down the copyright holders, and re-packaged it in DRM-free PDF, Epub, and Mobi format for subscribers.
So far they have reprinted A Plunge Into Space by Robert Cromie (first published in 1890) and Jack Bechdolt's 1948 novel The Torch. They have also opened a Brooklyn bookshop where vintage science fiction and fantasy paperbacks are filed chronologically by publication date, which I find weirdly compelling.
Tracking down old books — both rights and physical copies to scan — has proven more challenging than they expected. Their planned third book is Mr. Stranger's Sealed Packet by Hugh MacColl, first published in 1889. But according to a Wired article about the group, locating a copy took some effort:
The team tracked down the lone copy [of Mr. Stranger's Sealed Packet] out of university archives, and went on a thousand-mile drive just to scan it. Despite being out of copyright, none of the universities who owned a copy of [the book] permitted scanning.
Singularity & Co. currently don't offer individual e-books for sale; titles are available only to subscribers. Subscription plans start at $29.99 for a year, or $129.99 for a lifetime subscription. Learn more at their website, savethescifi.com.