Weird Tales Pulls Novel Excerpt Following Fan Uproar
Weird Tales Pulls Novel Excerpt Following Fan Uproar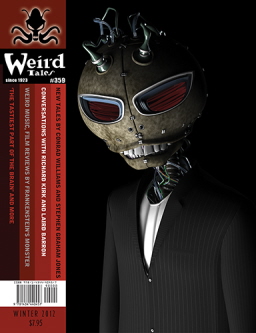 It's been an interesting day for Weird Tales, the oldest genre magazine on the market.
It began with the abrupt resignation of Ann VanderMeer as a senior contributing editor, "due to major artistic and philosophical differences with the existing editors." As reported here last year, VanderMeer was replaced as editor by Marvin Kaye as the magazine transitioned to new Publisher Nth Dimension Media, run by John Harlacher. While Ann commented that her resignation "has been in the works for several months, ever since I was removed as the editor-in-chief," it was apparently hastened by Kaye's decision to publish an excerpt from Victoria Foyt's novel,  Saving the Pearls: Revealing Eden. The "Pearls" in the title refer to whites, who find themselves a persecuted minority after an ecological disaster. In praising the book, Kaye wrote:
Weird Tales seldom prints SF, but this story is a compelling view of a world that didn't listen to the warnings of ecologists, and a world that has developed a reverse racism: blacks dominating and detesting not just whites, but latinos and albinos, the few that still survive of the latter are hunted down and slaughtered.
[Kaye's post, and the comments it generated, have since been removed from the WT site; a Google webcache of the page is here.]
Reaction from fans was swift and strongly negative. In her lengthy blog post, This is How You Destroy Something Beautiful, author N.K. Jemisin wrote:
All my pleasure and pride at having been published in WT is gone. Goes without saying that I won't be submitting there again, ever, but at this point I'm ashamed to have my name associated with the magazine at all. And that pisses me off especially, because something I really cared about has been destroyed.
By mid-afternoon, publisher John Harlacher had moved quickly to limit the damage with the following announcement:
Weird Tales will NOT be running an excerpt from Victoria Foyt's novel in our upcoming issue… I have not read the novel, but have gone over its online presence today. I have no need to read it. I saw the blackface video and read the excerpts the author and publisher chose to make available. I must conclude that the use of the powerful symbols of white people forced to wear blackface to escape the sun, white women lusting after black "beast men," the "pearls" and "coals," etc., is goddamned ridiculous and offensive. It seems like the work of someone who does not understand the power of what she is playing with… I deeply apologize to all who were offended by our association with this book. I am offended by it. I fully respect those who have been writing negative things about us today. You are correct.
Comments continue to accumulate on the announcement page (72 as of press time), with emotions running high on both sides. But while I expect there will still be a few folks who shake their fists at WT for a few days, Harlacher's swift action likely contained the worst of the fallout.