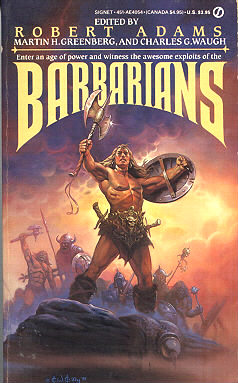 There's been some good discussion of Sword & Sorcery on the BG blog of late, from Brian Murphy's excellent list of "A Half-Dozen Swords And Sorcery Short Stories Worth Your Summer Reading Time, and Howard Andrew Jones's skillful examination of the writing technique of the genre's patriarch, "Under the Hood with Robert E. Howard," to Joe Bonadonna's warm reminiscence of the very best S&S of his youth, "How I Met Your Cimmerian (and other Barbarian Swordsmen)."
I thought I was pretty well educated in Sword & Sorcery; but it's the sign of a rich and vibrant genre that it can still surprise you after decades of collecting.
That's exactly what happened when I found the artifact at left, buried deep in a paperback science fiction collection I recently purchased.
Barbarians was a major S&S retrospective anthology published by Signet in 1986. It was edited by Robert Adams, Martin H. Greenberg, and Charles Waugh, and contained stories by Fritz Leiber, Fred Saberhagen, Andre Norton, Karl Edward Wagner, and many more. It's a thick paperback original with 13 short stories.
And no, I'd never seen a copy before — or its sequel. Here's the back cover copy:
From a beautiful huntress with glittering eyes and a killing kiss to mighty Conan's struggle in a deadly place beyond magic… from a distant planet fated to do battle with the forgotten past to primeval swordsmen pledged to protect a besieged land — here are tales of titanic strength and unearthly courage, of savage warriors facing incredible challenges in the far-flung realms of the imagination.
Sounds pretty good. Not entirely sure how this one escaped me for all these years, but I'm glad I've stumbled across it now.
Barbarians isn't just a single book — it became the start of an anthology series, albeit a short-lived one. One more volume, Barbarians II,  edited by Adams, Greenberg, and Pamela Crippen Adams, was published in 1988.
I still don't have a copy of that one. I only know it exists 'cause the Internet says so.
But I am sure of volume one.  Barbarians is 368 pages in paperback and the cover art is by Ken Kelly. Here's the impressive table of contents:
Introduction by Robert Adams
"Beyond the Black River" by Robert E. Howard
"Scylla's Daughter" by Fritz Leiber
"Stone Man" by Fred Saberhagen
"Sand Sister" by Andre Norton
"Swordsman of Lost Terra" by Poul Anderson
"The Were-Wolf" by Clemence Housman
"Swords Against the Marluk" by Katherine Kurtz
"Not Long Before the End" by Larry Niven
"Maureen Birnbaum, Barbarian Swordsperson" by George Alec Effinger
"Thurigon Agonistes" by Ardath Mayhar
"Vault of Silence" by Lin Carter
"The Other One" by Karl Edward Wagner
"The Age of the Warrior" by Hank Reinhardt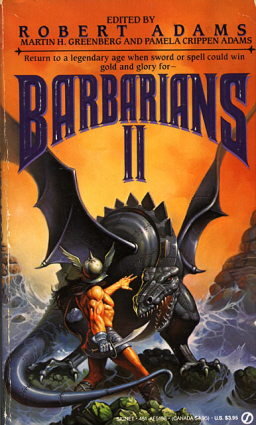 Barbarians II was published in 1988 (or so they tell me). It is 365 pages and the cover art is by Ken Kelly again.
Here's the complete TOC:
Introduction by Robert Adams
"The Valley of the Worm" by Robert E. Howard
"The Toads of Grimmerdale" by Andre Norton
"Maureen Birnbaum at the Earth's Core" by George Alec Effinger
"Trapped in the Shadowland" by Fritz Leiber
"The Blacksmith" by Raul Garcia Capella
"Demon of the Snows" by Lin Carter
"The Dark Mother" by Diana L. Paxson
"Misericorde" by Karl Edward Wagner
"The Warrior Race" by L. Sprague de Camp
"Fredeya" by Charles Fontenay
"A Logical Conclusion" by Poul Anderson
"The Winged Helmet" by Fred Saberhagen
"The Changer of Names" by Ramsey Campbell
"The Ghastly Pond" by Jessica Amanda Salmonson
I'll be keeping any eye out for that second volume. But until then, I have the first one to keep me occupied.