How I Met Your Cimmerian (and other Barbarian Swordsmen)
How I Met Your Cimmerian (and other Barbarian Swordsmen)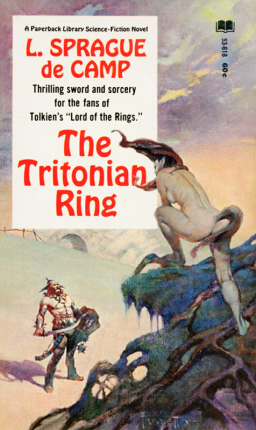 It was the summer of 1969. Very much like the one described in the song by Bryan Adams.
I quit the rock and roll band I'd been playing with since high school, went to work with my Dad, and had just finished reading The Lord of the Rings; a year earlier, while still in high school, I'd read The Hobbit. Now, after completing my magical journey through Middle-earth, I was totally hooked. I had found a liking — no, a craving for Heroic and Epic Fantasy.
Not long after that I discovered the Ballantine Books Adult Fantasy Series, wonderfully edited and championed by Lin Carter. Novels by Mervyn Peake, Lord Dunsany, E.R. Eddison, David Lindsay, William Morris, James Branch Cabell, Poul Anderson, and others fanned the flames of my passion.
To say I was addicted would be a gross understatement. No, I had found novels that had changed my life and would continue to do so for the next 40-plus years!
Then one day, while browsing through a used book store on State Street and Congress in downtown Chicago, I came across three more novels that would further alter my life. The Tritonian Ring by L. Sprague de Camp, The Swords of Lankhmar by Fritz Leiber, and an anthology of short-stories by Lin Carter, Beyond the Gates of Dream.
What was this new and exciting genre of fantasy fiction I had discovered? Sword and sorcery, of course! I was not only caught like an unwary Hyrkanian soldier, I was taken captive — axe, mace, and broadsword.
[Click on any of the images for larger versions.]
I finished reading Leiber's and de Camp's novels in less than a week, and then I opened the "Gates of Dream" to Carter's collection of stories. One story in particular hit me like a blow from a Cimmerian war hammer — "The Hand of Nergal."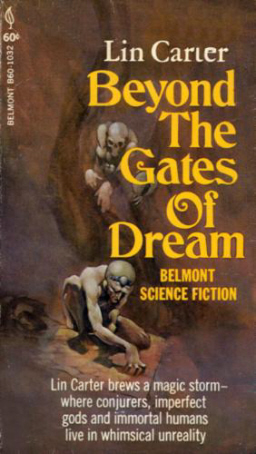 Yes, the first Conan story I ever read was not even pure Howard, but a pastiche completed after his death by Carter. At the time, I didn't know too much about Howard and his work. All I knew was that I had discovered CONAN!
Sure, I had read some things about the big guy with the volcanic blue eyes in some articles and reviews in the old Castle of Frankenstein magazine. But I didn't know anyone who had ever read Conan, or knew anyone who had even read sword and sorcery fiction, for that matter. Everyone I knew was familiar with Tolkien … but not with Howard.
So I set out on my quest to find anything and everything I could that Howard had written. Going to major bookstores like Kroch's, Brentano's, and B. Dalton's revealed even more of Howard's treasures.
Conan the Adventurer was the first all-Howard book I delved into. "The People of the Black Circle" was the first "pure-Howard" Conan story I ever read, and I was magically transported back to the Hyborian Age through the purple-edged pages of those grand old Lancer paperbacks with the amazing Frank Frazetta covers.
After that, I discovered other Howard titles: the excellent Wolfshead, the grim and atmospheric King Kull, the even grimmer but no less grand adventures of Solomon Kane, and the dreamy Burroughs-inspired world of Almuric.
It didn't take very long before I joined swords with Black Vulmea, Bran Mak Morn, and Cormac Mac Art. Since then, I've read Howard's other stories, too — his westerns, his Oriental and Crusades stories, his Sailor Steve tales. And by Crom and by Mitra — I'm still reading them, in all new editions, too!
Later, after I subscribed to George Scithers' immortal fanzine, Amra, I learned more about sword and sorcery fiction, and writers like Michael Moorcock, John Jakes, C.L. Moore, Leigh Brackett, Gardner Fox, Jack Vance, and Andre Norton, to name a few.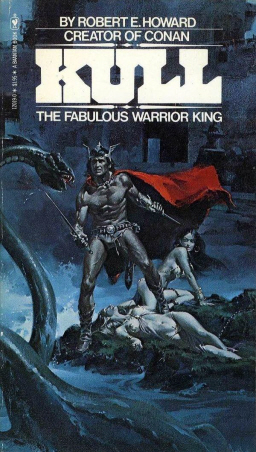 Then I found an ad for a place in New York called "Stephen's Book Service." So I wrote to him and received a mimeographed catalog where, to my delight, I was able to purchase books I couldn't find anywhere else (though some I had already ordered and received directly from the publishers.)
So I ran to the currency exchange, bought a money order, and mailed it off faster than you can say Skullface! Within a matter of two weeks or so, I received the paperbacks I had ordered, plus an updated catalog. I spent the remainder of 1969 and almost all of 1970 locked away, reading and rereading those wonderful books.
Lin Carter's informative introductions to so many editions of Ballantine's Adult Fantasy Series, as well as his excellent anthologies such as The Young Magicians and the Flashing Swords series led me to even more writers. Some wrote sword and sorcery, some wrote heroic fantasy. But it was all the same to this lad of late teenage years.
I devoured books by Edgar Rice Burroughs, Joy Chant, Evangeline Walton, C.J. Cuttliffe Hyne, Fletcher Pratt, H. Rider Haggard, Talbot Mundy, Harold Lamb, and Clark Ashton Smith.
Later, I discovered Dave Mason, Stephen R. Donaldson, David Eddings, Tanith Lee, Carol Kendall, and Terry Brooks, and others whose names I'm sad and embarrassed to say I've long forgotten.
Numerous novels, countless anthologies, and who knows how many short stories later, I discovered fanzines such as Dragonbane, Beyond the Fields We Know, Dragonfields, Space and Time, and Whispers. I soon discovered writers and editors named Charles Saunders, Charles deLint, David C. Smith, Richard L. Tierney, Andy Offutt, Karl Edward Wagner, H. Warner Munn, Galad Elflandsson, Thomas Burnett Swann, Gordon Linzner, and Stuart Schiff.
Then along came an onslaught of anthologies like The Year's Best Fantasy, edited by Lin Carter, Heroic Fantasy, edited by Gerald W. Page and Hank Reinhardt, and the incredible Swords Against Darkness series, edited by Andy Offutt. That's where I discovered David Drake, Manly Wade Wellman, Orson Scott Card, David Madison, and so many others.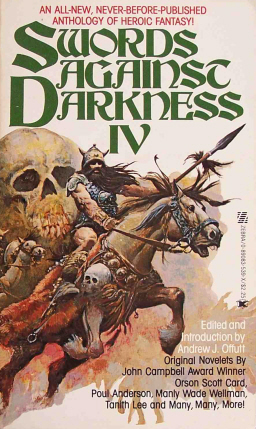 It was Charles Saunders who first believed in me and encouraged me, who bought my first short stories, who introduced me to David C. Smith. (He even put me in touch with Tanith Lee!) Charles is a true pioneer in the sword and sorcery genre. He created Imaro, the first black hero to grace and stalk and hack his way through the pages of S&S history, a complex hero with real emotional baggage.
Dave Smith battered down the gates of the kingdom with Oron, another warrior who was complex, as well as dark and tragic. Like Saunders, Smith was pushing the envelope and was well ahead of his time when he wrote his magnificent, alternate-world fantasy, The Fall of the First World trilogy.
Richard L.Tierney, who wrote excellent stories of Simon Magus, set in a very real ancient Rome, teamed up with Dave Smith to co-write six Red Sonja novels, as well as a wonderful Bran Mak Morn novel.
It was through Smith that I met Ted (T.C.) Rypel, creator of Gonji the Samurai. What Rypel gave us was another complex, thoughtful, and even cultured warrior born and bred in the samurai tradition, a warrior trying to live by the Bushido Code, against all odds. Five excellent novels of Gonji were published, again pushing the envelope, breaking through boundaries and expanding the genre of sword and sorcery.
I also discovered Guy Gavriel Kay, whose Tigana, The Lions of Al-Rassan and A Song for Arbonne are classic examples of great storytelling and human drama.
As the late John Lennon once said, "Life is what happens when you're busy making other plans." So the distractions of Life took center stage in my own life, and for many years I just didn't have the energy or the time to do any further writing. (I had also become involved with rock and roll again, for one last hurrah.) One casualty of all this was that I lost touch with Charles Saunders, sometime back in the 1990s.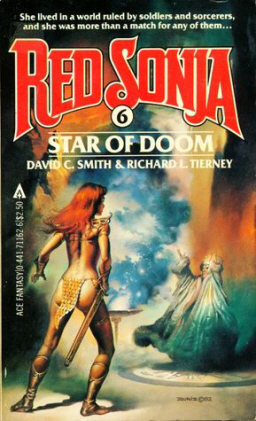 When David Smith moved here to Chicago back in 1996 or so, he wasn't doing much writing, either. But we seemed to spark each other's imagination, and off we went with sword in one hand and keyboard in the other. We co-wrote one so-so screenplay about zombies, called Twilight of the Dead, and a second screenplay which we are exceedingly proud of: Magicians, (based on two of his non-S&S novels, The Fair Rules of Evil and The Eyes of Night.)
This time, Life steered me back on the ink-stained road and I started to write sword and sorcery stories again, only now I was determined to create something totally my own, something that might even be considered unique. So I resurrected an old character, Dorgo the Dowser, and merged his world of Tanyime with that of Greek mythology, the Roman Empire, Victor Hugo, and Charles Dickens.
By this phase of my life, I had totally immersed myself in mysteries and World War II thrillers, and in the glorious works of Dashiell Hammett, Raymond Chandler, Mickey Spillane, James M. Cain, and the amazing Chester Himes, in particular. Now, I've always loved the Warner Brothers gangster films of the 1930s, and the film noir of the 1940s-50s, and one night, after watching a marathon of Cagney, Bogart, Robinson, and Raft pictures, I got this sudden flash of inspiration.
What happened was this, see? It occurred to me, for no really apparent reason, see — that it might be kind of cool to put a special form of dowsing rod in Dorgo's hand, and — voila! Mad Shadows—The Weird Tales of Dorgo the Dowser was born.
Two years ago, it was Dave Smith who reconnected me with Charles Saunders, via email. (Why it took so long, I'll never know.) Last summer, again through Dave Smith, I met John O'Neill at a local book store where Dave was doing a reading and signing of his thriller, Seasons of the Moon. Then one day through a mutual friend on Facebook, I "met" author Howard A. Jones, of Black Gate magazine; I knew who he was, of course, having sent him an early version of my first Dorgo story, "Mad Shadows."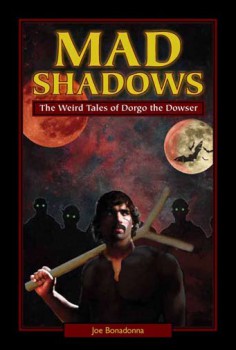 I recently had the double pleasure of seeing John again, and meeting Howard at the Windy City Pulp and Paper Con, here in Chicago. That same afternoon I was also very proud to meet Jason Waltz of Rogue Blades Entertainment, and Ron Fortier and Rob Davis of Airship 27 Productions.
(Funny aside: Back in the early-mid 1970s, Ron and I were both members of the same writers group — SPWAO: Small Press Writers and Artists Organization, though we'd never met before. We still have our membership cards, too!)
About a week or so before the Windy City Con, through Ted Rypel, I became Facebook Friends with Matt Staggs, who organized The Swords and Sorcery League on Facebook. And once again it was Charles Saunders, via Facebook, who steered me to two more writers — Milton Davis (Changa's Safari), and Valjeanne Jeffers (The Immortal series.)
Soon, through the pages of Black Gate, the publications of Rogue Blades Entertainment and Airship 27Productions, I'll be discovering even more writers and new talents, and hopefully making more friends along this road of eagles.
The wonderful thing about all this is that I don't see all this stopping. Ever. It's a movement, an army. Sword and sorcery (and pulp fiction, too!) is growing. It's marching and it's a force to be reckoned with.
The only sad thing about it all is this: I used to be able to buy four or five books a month, and have the time to read and keep up with almost everything that was happening in sword and sorcery, and fantasy in general. Nowadays… forget about it! There's too much out there and just not enough time… a whole new world waiting to be explored.
And I couldn't be happier!
But I do have one question . . . why are so many writers named David? What is this — some new, nefarious plot by 'ol Thulsa Doom himself?
---
This article was originally published in 2011 at the Rogue Blades Entertainment HOME OF HEROICS.