Electric Velocipede #24 Now Available
Electric Velocipede #24 Now Available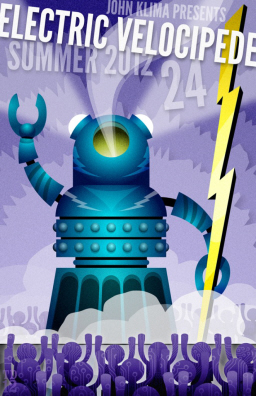 John Klima's Hugo Award-winning speculative fiction magazine released its 24th big issue this week. In his editorial, "A Remembrance of the Future," John talks about modern art, graffiti artist Banksy, and the future of the magazine:
Electric Velocipede has made its own transformation. From a small one-man show print publication, to a dedicated team of people putting out a solid magazine, to an online publication. We're still navigating the waters and figuring out what's next, but the transformations have helped keep things interesting and exciting… This is an interesting issue, and we're opening it with a piece that's as powerful and different (and subtle) as past work from Hal Duncan and Jeffrey Ford. New work will be going up on an ongoing basis, and the whole issue will be available as an ebook shortly.
The complete table of contents, with online publication dates, is as follows:
NOVELETTE
"Heaven Under Earth" by Aliette de Bodard (8/27)
SHORT STORIES
"Cutting" by Ken Liu (7/30)
"Night's Slow Poison" by Ann Leckie (8/6)
"The Mezzo" by Eli Effinger-Weintraub (8/13)
"Under the Tree" by Tania Hershman (8/20)
"For They Heard the First Sound and Trembled" by Jessica Breheny (9/4)
"To Dive Into a Godling, Where Life Begins" by Jacques Barcia (9/10)
"The Lotus Eaters" by Michelle Muenzler (9/17)
"The Leaf" by Erik T. Johnson (9/24)
NON-FICTION
"A Remembrance of the Future" by John Klima (7/30)
"Content TKTK: A Soul Unchained" by John Ottinger III (8/20)
"Blindfold Taste Test" with William Shunn (9/17)
Issue 24 of Electric Velocipede is available for free online here. We last covered Electric Velocipede with issue 21/22.