The 2012 Sword & Sorcery Mega Panel
The 2012 Sword & Sorcery Mega Panel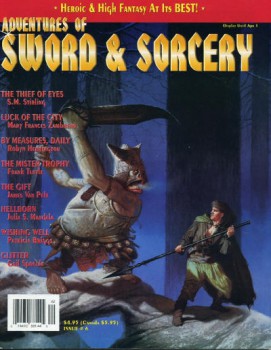 John DeNardo and his team at SF Signal know when they have a good thing going.
Take for example the genre-defining 2010 Sword & Sorcery Panel Podcast, recorded at the World Fantasy Convention in Columbus, Ohio and featuring the official brain trust of modern S&S: Howard Andrew Jones , Ryan Harvey, Bill Ward, James Enge, Jason M. Waltz, Sam Sykes, John R. Fultz, Alex Bledsoe, Matthew Wuertz, and the ever-humble John O'Neill.
How do you top that? I know — impossible, right?
Well, all credit to Patrick Hester and Jaym Gates at SF Signal for making a terrific effort. In episode 108 of the SF Signal Podcast they've assembled a knock-out line-up of heavy hitters to discuss Sword and Sorcery for the modern reader. Including:
Lou Anders — publisher and editor of mega-publisher Pyr
Violette Malan — author of The Mirror Prince and many others
James L. Sutter — Paizo editor and author of Pathfinder Tales: Death's Heretic
Scott H. Andrews — author, and editor of the splendid Beneath Ceaseless Skies
The podcast features original music by John Anealio. Part One is now available here.