The Desert of Souls Now Available in Trade Paperback
The Desert of Souls Now Available in Trade Paperback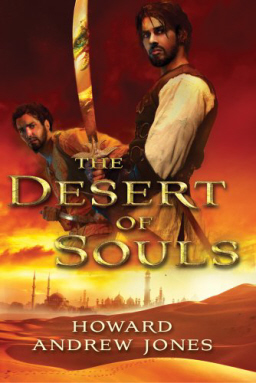 Howard Andrew Jones' debut novel The Desert of Souls is finally available in trade paperback, with a brand new cover by Scott Grimmando.
It's been a busy week for our Managing Editor. Yesterday we told you Thomas Dunne Books had released the cover art for the sequel, The Bones of the Old Ones, and announced a release date of August 21, 2012.
And less than two months ago Howard published The Waters of Eternity, an exciting collection of stories featuring the heroes of his first two novels, the intrepid Dabir and Asim — including two stories that first appeared in Black Gate.
Here's just a sample of the praise the novel received when it first appeared:
"The Desert of Souls is filled with adventure, magic, compelling characters and twists that are twisty. This is seriously cool stuff."  — Steven Brust

"A grand and wonderful adventure filled with exotic magic and colorful places — like a cross between Sinbad and Indiana Jones."  —Kevin J. Anderson

"Howard Andrew Jones spins an exciting and suspenseful tale in his historical fantasy debut. A rich, detailed tapestry — part Arthur Conan Doyle, part Robert E. Howard, and part Omar Khayyam, woven in the magical thread of One Thousand And One Nights."  —  E.E. Knight
The Desert of Souls, 320 pages of action-packed Arabian adventure, is available from St. Martin's Griffin for just $14.99.