Art of the Genre Review: Jeff Dee's new Kickstarter
Art of the Genre Review: Jeff Dee's new Kickstarter
Last month I was intrigued to see that former TSR artist Jeff Dee had started a project on Kickstarter to recreate his classic images from the Egyptian pantheon in Deities & Demigods. Now, first, I didn't really know anything about Kickstarter, but the more I looked at it the more interested I became.
If you don't know about it, I'll give you the Cliff's notes version. Kickstarter is a site that provides creative people an outlet to connect with fans and take contributions for projects they might otherwise not get to do.
In this fashion Jeff, who hadn't seen work from TSR in nearly 30 years, got to go back and recapture some of AD&D's faded glory.
You see, in those early days of TSR things were changing fast, money was coming in like water into a sinking ship, and nobody really had any idea what they had. That being said, all of Jeff's original works for the company were unceremoniously tossed in a dumpster to make room in the files for newer artwork, so original copies of his stuff no longer exits.
Jeff decided that it was high time he remedy that fact, and so he went out to recreate the images he did for Deities & Demigods, one pantheon at a time, with an added caveat that he'd also create several new images of Egyptian gods that the former TSR deadlines didn't allow time for.
This initial project was a smashing success, and you can view all of Jeff's new work on his DeviantArt page as well as order prints.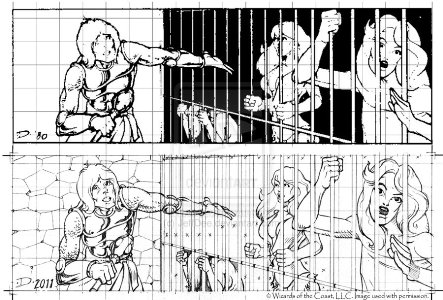 In fact, the project was so successful that he's started a second one as he attempts to garner enough support to recreate ALL of his former classics. Click on this new Kickstarter, now about half-way complete on its allotted time frame, and see how he wants to recreate all his images from the Gary Gygax iconic module Q1: Queen of the Demonweb Pits.
As a fan of art, and particularly gaming art, I have to say that I love these projects and it's been incredible to see just how accurate Jeff is when he reproduces these pieces. Sure, there are tiny changes, but they only better the originals with increased definition, sharper edges, and an overall cleaner look.
For this new project, Jeff also put up a fantastic example page of how he's going about doing the work. In it, he's laid a grid design over the original so that he can break the work down into smaller pieces, thus insuring that it is perfectly proportional to the original. Just brilliant!
Anyway, I wanted to take a moment this Saturday to give a shout out to Jeff and say keep up the good work and I hope you find continued support for these outstanding projects.