Long Live the Physical Book–at least for now
Long Live the Physical Book–at least for now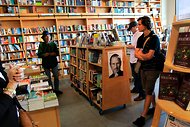 So it would seem that the death of the physical book and the physical bookstore is greatly exaggerated. According to The New York Times, bookstores are having a banner year. In part this is because some of the competition (i.e., Borders) is no longer a factor in brick-and-mortar retailing, a number of popular books (ironically including the biography of Steve Jobs, the very guy who sought to digitize and commodify the object in question) and a desire among consumers in a slowly recovering economy to give gifts that are attractive in a way that bits on a screen don't quite emulate.
Also, content owners are, as they are prone to do, shooting themselves in the foot when it comes to digital retailing. Despite the fact the e-book readers are more affordable than ever with a growing proliferation of titles in e-book format, pricing strategies are frequently rendering physical books as less expensive than their digital counterparts, The Wall Street Journal reports.
Long live the dog-eared book, if only for another few years.
On another note, and though it has nothing to do with the normal realm of Black Gate matters, I'm sad to note the passing of Christopher Hitchens.  Right up to the end, he was one gutsy bastard.  Here's what I presume was his last piece of Vanity Fair.