John Joseph Adams buys Lightspeed and Fantasy Magazines from Prime Books
John Joseph Adams buys Lightspeed and Fantasy Magazines from Prime Books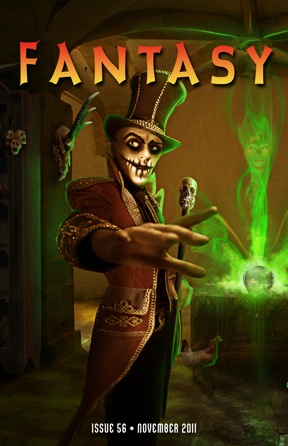 It's been a tumultuous season for fantasy magazines.
In August Marvin Kaye surprised us by acquiring Weird Tales from Wildside Press, and last week we told you Realms of Fantasy magazine had folded again. And now Sean Wallace at Prime Books informs us that he's sold Lightspeed and Fantasy magazines to current editor John Joseph Adams.
Lightspeed and Fantasy magazines are two of the finest online fiction magazines. Fantasy originally appeared in 2005, publishing six print issues before moving online in 2007. Its editors have included Sean Wallace, Paul Tremblay, and Cat Rambo, with Adams taking the reins in March of this this year.
Lightspeed, which publishes short science fiction, debuted in June 2010 with John Joseph Adams at the helm; it was a 2011 Hugo Award nominee for Best Semiprozine, and Adams was a 2011 nominee for Best Professional Editor, Short Form.
John Joseph Adams has been called "the reigning king of the anthology world" by Barnes & Noble.com. His anthologies include The Way of the Wizard, Brave New Worlds, Wastelands, The Living Dead, The Living Dead 2, By Blood We Live, Federations, and The Improbable Adventures of Sherlock Holmes.
Adams has not announced if he'll make any changes to the magazines. "It's an exciting time to be involved in publishing," he says in the press release. "Models are changing and so is the readership, and online magazines have a better shot at sustainability than ever have before. I believe the possibilities for growth are tremendous, and I look forward to staying in the vanguard of this new frontier."
We last covered Fantasy Magazine in April with issue #49.
Read the complete press release here.