Goth Chick News: Logan's Re-Run
Goth Chick News: Logan's Re-Run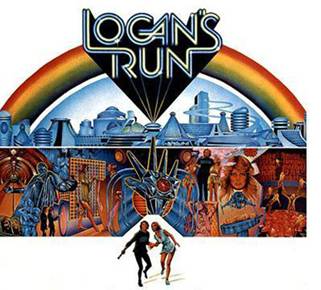 Recently, I made a DVD acquisition that is a tad off the beaten path at Chateaux Goth Chick. While admittedly my movie collection is somewhat top-heavy with an equal mixture of black and white classic horror and modern day scream-fests, there are the occasional outliers such as all the Terminator movies and the complete Harry Potter series.
Apparently, this choice was an outlier of the outliers.
When Logan's Run arrived in my mailbox, Mr. Goth Chick groaned out loud, announcing that is was very nearly the "cheesiest film of all time." He then went on to abuse my admiration of what I consider a classic from 1976 until I set him straight on a few points.
For instance.
Did you know that in 1977 Logan's Run was nominated for two Oscars (Best Art Direction and Best Cinematography) and won a Special Achievement Award for Visual Effects?
The Academy of Science Fiction, Fantasy and Horror Films gave it six "golden scrolls" that same year, primarily for the special effects that at the time were cutting edge.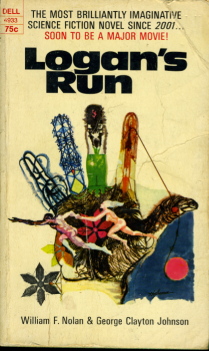 And the novel by William F. Nolan and George Clayton Johnson was and still is a global hit and has sold over a million copies in the US alone since its publication in 1967 (LOVE it by the way; it's even better than the movie).
The premise is this: In the world of 2116, a person's maximum age is strictly legislated: twenty one years (the original movie moved the age to 30).
When people reach this Lastday they report to a Sleepshop in which they are willingly executed. A person's age is revealed by a flower crystal embedded in the palm of their right hand that changes color every seven (or ten) years, then turns black on Lastday.
Runners are those who refuse to report to a Sleepshop and attempt to avoid their fate by attempting escape to a fabled location called Sanctuary.
Logan is a Deep Sleep Operative (also called Sandman) whose job is to hunt and terminate Runners. On his own Lastday, Logan is recruited to become a Runner himself in an attempt to infiltrate an apparent underground railroad for Runners seeking Sanctuary
The 1976 movie version of Logan's Run starred Michael York and Jenny Agutter. York who was already a star at London's National Theater Company was considered a casting coup while Agutter had been a British TV and movie regular since the age of 12.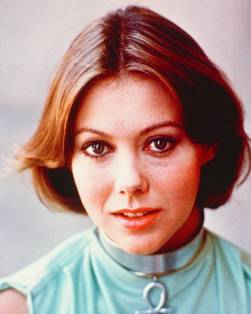 Logan's Run was considered her big break in Hollywood where she went on to star in American Werewolf in London and The Eagle Has Landed.
Cool story, cutting edge special effects and a lot of action…what else is there to say?
With my purchase justified, I went on to tell Mr. Goth Chick what I'm about to tell you.
Nicolas Winding Refn, who won the best director prize at Cannes for the current hit movie Drive has revealed he is hard at work on a new film version of Logan's Run.
Not only that, the project will reunite the Danish director with Ryan Gosling, the star of Drive, in the title role of Logan.
"I really want to make Logan's Run, and I'm working on it very hard. I have to deliver a script by Christmas," Refn told the BBC News website this week.
"Logan's Run is a bigger thing (than Drive)," explained Refn, "because it's so expensive, it's Warner Brothers and it's got more people involved."
The release date is set for sometime in 2014 and late breaking news is that Rose Byrne from the TV series Damages and Moira MacTaggert in X-Men: First Class is onboard to play Logan's love interest and fellow runner, Jessica 6.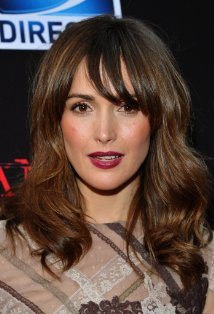 The big question is whether or not the remake will get an R-rating (my guess is yes). The original was rated PG in 1976 but not for lack of trying.
The "Love Shop" sequence originally ran much longer, but had to be cut down under pressure from the MGM censors.
Other cut scenes include the character "Box" making a nude ice sculpture of Logan and Jessica, and several characters visiting the "Hallucimill" shop in Arcade (the latter was cut for its depiction of drug use).
Sadly all of the additional footage and its background music score never ever made it on the DVD release as they were subsequently lost in what is now known as "the great MGM purge".
Studio owner Kirk Kerkorian sold off what he could of the studio's extensive archives and simply threw out the rest.
However, I'm betting that all this and more will find its way back into Refn's version.
So what do you think? Is remaking a good idea, or just more proof that Hollywood can't come up with anything original anymore?
Post a comment or drop me a line at sue@blackgate.com.