Goth Chick News: Zombie Contamination and Other Stuff You'll Only Find Here
Goth Chick News: Zombie Contamination and Other Stuff You'll Only Find Here
Fresh from their final exams and smelling strongly of AXE body spray, the new batch of summer interns creeps tentatively down the stone steps into the underground offices of Goth Chick News. After orientation, which in this case includes a thorough hosing off, they are scurrying around collecting information for their first assignment.
Akin to the pleasure of taking the Margarita salt out from its long winter storage is the joy of taking on twice as many interns as necessary and making them fight each other to the death in their first week, to remain one of the chosen few.
"Bring me pop horror culture!" I shout; frothy frozen cocktail in one hand and riding crop in the other. "And make sure it's fresh! We're not running some crappy Ryan-Seacrest-production here!"
C.S.E. Cooney laughs maniacally from the corner and asks if she can have a go with the riding crop.
Summer is definitely in the air at Black Gate headquarters.
I've kept the deadline for this little project a secret, partially because I've already found some interesting things to tell you about this week, but mostly because the chaotic scene before me makes the perfect entertainment to go with my umbrella drink. The joy is fleeting but I will prolong it as much as possible.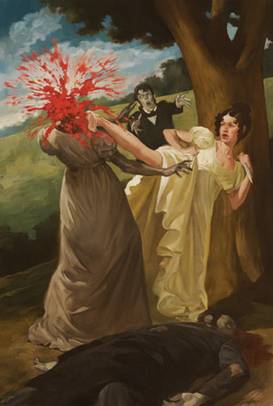 In the interim…
It's been quite some time since I'd heard any rumblings about a film adaptation of Pride and Prejudice and Zombies, but now it looks like wheels are moving again.
For those of you who don't know, Seth Grahame-Smith the comic genius behind How to Survive a Horror Movie, teamed up with Jane Austin (post mortem) to add a few flesh-eating undead to Austin's classic tale Pride and Prejudice. Personally, I think this constitutes a marked improvement to the original work and had it been available when I was in school, I wouldn't have needed Cliff Notes.
Let's be honest, add a zombie to almost anything and it instantly becomes more fun.
Grahame-Smith spawned a series of imitators including Sense and Sensibility and Sea Monsters, Little Vampire Women and Jane Slayer. But Pride and Prejudice and Zombies was first, and best if you ask me. So it's only fitting it gets the Hollywood treatment before any of the late-coming posers.
It was very nearly on its way to the big screen in 2009, but apparently there were copious issues.
However, today I can tell you that Fright Night writing/directing team Marti Noxon and Craig Gillespie will be teaming up once again for Zombies.
The Fighter director David O. Russell actually completed a script before leaving the project, but now Noxon will rework it before he and Gillespie move forward with production.
Sounds like it could be awhile before this movie actually starts production, but we'll "keep an eye out for it." (a very little bit of zombie humor for you).
In case you are looking for something to do next weekend, our favorite Hollywood connection Wyatt Weed dropped me a line about an event taking place in St. Louis. Contamination, The Sequel, is at the Sheraton from June 24th to 26th.
I understand it's the second year for this unique, pop-culture event and some of the guests are pretty cool; Eric Roberts, the Boondock Saints actors, and a reunion of the cast of the 1994 Roger Corman Fantastic Four.
But clearly, the stand-out celebrity is Sandahl Bergman who played the Barbarian princess "Valeria" to Arnold Schwarzenegger's "Conan" in the first movie.
I'm planning to drive down to St. Louis to meet Ms. Bergman, not only because I played that VHS tape to shreds dreaming of being Valeria, but because I've got to know if she and Arnold ever… well… I mean, come on. Twenty-nine years later she's got to be ready to spill.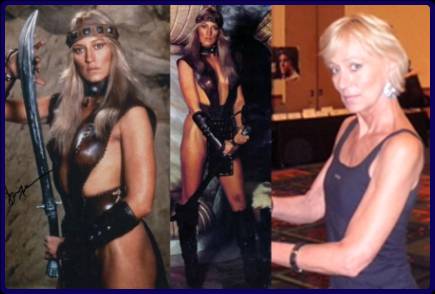 Described as: A weekend packed with toxic celebrities, contagious dealers, viral gamers, brain hemorrhaging music and other coma inducing activities, it doesn't sound like there's a way to go wrong.
Want a sneak peak? Go have a look at the commercial for the event here.
And now, back to my favorite stress-relieving game; House of the Dead (Interns).
PS: Remember Jim Henson, the genius behind The Muppets, Fraggle Rock and Labyrinth? Did you know he wrote a movie before he died in 1990 that would have demanded more technology to bring to the big screen than Hollywood had available at the time?
Did you know you're about to see that work brought to life? Well neither did I until one of the guys involved got in touch. Stay tuned for all the deets on Henson's lost work (and it's scary too!).