The Weekly Standard on The Comic Crash of 1993
The Weekly Standard on The Comic Crash of 1993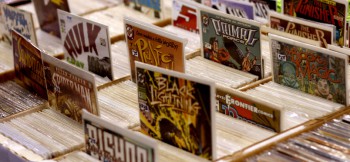 Jonathan V. Last at The Weekly Standard has written a surprisingly lucid piece of history on the so-called speculator boom, and subsequent spectacular crash, in the comics market from the late 1980s through 1997:
By the time the bubble's soapy residue washed away, nine out of ten comic book shops in America had closed their doors. Publisher sales of new comics dropped by 70 percent. On December 27, 1996, Marvel, the General Motors of comics, filed for bankruptcy. The market for used comics was flooded with the cadaverous inventories of out-of-business stores… the contours of the industry have changed almost beyond recognition. In 1950, Marvel and DC together sold roughly 13 million comic books a month. In 1968, they put out 16 million a month. Since 1993 the overall sales trend has been inexorably downward. For January 2010, all American publishers combined sold a total of 5.63 million comics.
In the shadow of the crash, Last draws the same conclusion others have about the true value of modern comic franchises like Spider-Man and Batman:
This might sound like an industry marching toward oblivion, yet in 2009, Disney paid $4 billion to acquire Marvel (DC was already owned by Time-Warner). The reason for this gaudy valuation is that the comic books themselves are no longer important to the comic-book industry. They're loss leaders. The real money is in the comic-book properties, which power toy and merchandise sales, theme parks, and above all else movie franchises. Since 1997, 26 comic book adaptations have gone on to gross more than $100 million at the box office. Twelve of these grossed more than $200 million. More — many more — are coming soon to a theater near you.

As a financial concern, comic book publishers are no longer in the publishing business: They're curators of, and incubators for, extremely valuable intellectual property.
In the midst of it all, Last draws parallels to the comics crash to help explain the collapse of the U.S. housing market. Never seen that done before.  Check out the complete article here.