Art of the Genre: Special Critical Hit
Art of the Genre: Special Critical Hit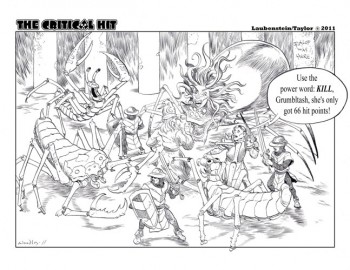 Two weeks ago I posted a small piece on the passing of Jim Roslof. Afterward I spoke to several people concerning some kind of tribute art, but nothing developed until I came across an idea for The Critical Hit concerning Jim.
So, this is both my, and Jeff Laubenstein's, tribute to Jim and his body of work. For all you old folks out there, you need no introduction, but anyone else, I'll post the original art we're referencing as well.
This tribute to Roslof can be seen as perhaps a threefold homage, co-authors David C Sutherland III passing away in 2005, and Gary Gygax in 2008. Q1 Queen of the Demonweb Pits debuted in a tournament edition for Origins in 1979. It was scripted by artist/writer Sutherland and completed by Gygax before being turned into the culmination adventure of the G-1-2-3, D 1-2-3 adventure path.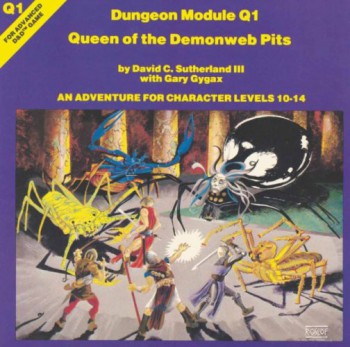 The adventure revolves around a party going into 'the demonweb pits', the 66th level of the Abyss controlled by the Drow goddess Lolth. There, they must overcome her minions, deal with the labrynth of corridors and gates involved, and finally deal with Lolth herself. I've had the pleasure of DMing this module once and playing in it twice, and for me I think it is a wonderful end to perhaps the greatest set of gaming modules ever produced.
Today, Fleetwood the Fighter and Grumbltash the Wizard, along with three trusty NPCs, have fallen into the same scene as that fateful party in 1980. I'd say wish them luck, but it looks like Fleetwood is familiar with the module and monster stats already…
Anyway, I'd like to say once again to Jim, David, and Gary, thanks for all the fond memories!